Pierre Kalulu signs five-year contract extension to stay at AC Milan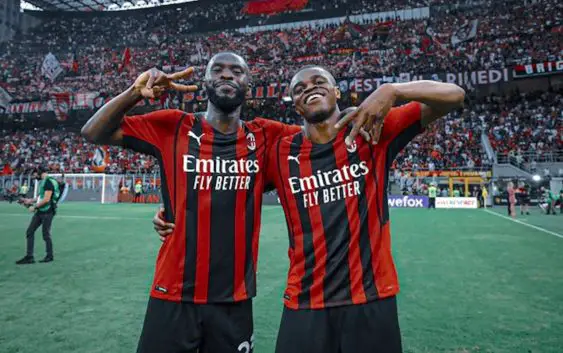 Pierre Kalulu has signed an extension that will see him stay at AC Milan until June 30, 2027, as reported by Yahoo. The 22-year-old Frenchman joined the club from Lyon B in 2020 and has been a sensation ever since. He was signed by the club as a backup to Davide Calabria in the right-back slot but has come into prominence at Milan as a center-back. Kalulu, like many young players, needed a bit of good fortune to go his way en route to becoming a starter for the Rossoneri and has grabbed the opportunity with both hands.
Kalulu Took His Opportunity
After being in and out of the side in his first season, a series of injuries to Alessio Romagnoli, and a season-ending injury to Simon Kjaer in the 2021-22 season, gave Kalulu the chance to play as a regular in the center-back spot.
Kalulu showed his recovery pace, physicality, and assuredness on the ball in his performances as he formed a decisive partnership at center-back alongside fellow youngster Fikayo Tomori. Milan's run-in towards the end of last season was crucial to their first Serie A title in 11 years, and Kalulu and Tomori proved impenetrable at the back during this hectic period, although neither were rewarded with a place in a World Cup squad, according to Sky Sports.
The defending champions head into the World Cup break in second place in the Serie A table, eight points behind Napoli, but they'll be well aware that it's a long season with lots of points to play for. They currently have odds of 6.02 to win the Serie A for a second consecutive season on BetBuq, which is one of many sportsbooks powered by PlaylogiQ through its host of responsive and low-code solutions for budding betting sites.
Official Statement: Pierre Kalulu ➡️ https://t.co/F1SNGkspln

Comunicato Ufficiale: Pierre Kalulu ➡️ https://t.co/Qa5t6h9v1G#ReadyToLeaveAMark #SempreMilan pic.twitter.com/L35D4kDFFT

— AC Milan (@acmilan) November 10, 2022


A Solid Base to Work From
Milan struggled for goals at times last season, and the problem has followed them this season – but the likes of Kalulu have made sure that this deficiency hasn't dented their Serie A title chances. Between the start of last season's Serie A and the start of this year's World Cup, only Napoli (43 conceded) has a better defensive record than Milan's (46 conceded).
After Kjaer's injury, there were a number of rumors surrounding a new center-back signing for the Rossoneri, but Kalulu's performances have compelled Milan to not go into the transfer market for that role. Manager Stefano Pioli also deserves credit for trusting the youngster. With this contract extension, Kalulu looks set to play for Milan in what should be his peak years.
There are still some areas of his game that Kalulu could improve on, and a long-term contract helps that cause. At times, Kalulu has been found lacking a bit of aggression, but he has shown that he has got a good head on his shoulders, and is willing to take on directions and work on his game.
To play for a club with the expectations Milan has, and to have shown the capacity to go right till the end of the season in an unfamiliar position – and be a key part of a Serie A winning team – is no small achievement. Kalulu's extension is well-earned, and Milan will hope to remain a top side for years to come with his services retained.