Pros and cons of Thiago Silva's return at Milan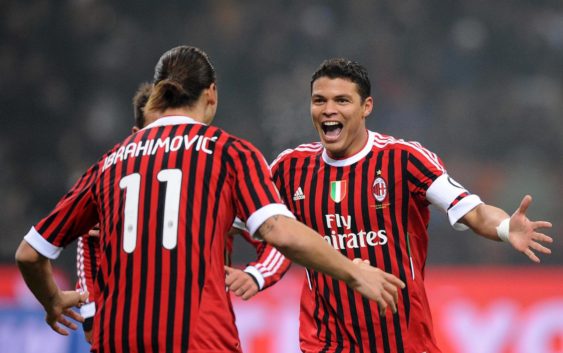 In the summer Thiago Silva will leave PSG as a free agent. The Brazilian defender could make a sensational return at AC Milan. 
PSG have informed Thiago Silva that his contract will not be renewed and the Brazilian is free to leave in the summer. The most likely destinations of the 35-year-old centre back seem a return to Brazil or in Italy at AC Milan. But would signing back Thiago be a good idea.
The vast majority of the Rossoneri fans would be happy to embrace the Brazilian defender, just as Milan would be willing to take him back but… only under certain conditions. While it is true that the class and professionalism of the Brazilian defender are not in discussion, it is equally true that age and injuries do not play in his favor. But let's see what the pros and cons of a possible return would be.
CLASS AND LEADERSHIP – Thiago Silva would soon become a free agent so his arrival would have no cost for the club. Milan, in simple terms,would not pay a single cent for his signing. The Brazilian has class and valuable experience and knows the environment well, even if the Rossoneri club has changed a lot since he left in 2012.
He is still a reliable centre back and certainly, injuries permitting, would make a great impression in Serie A, removing a lot of pressure from captain Romagnoli. In addition, Silva, a player who has numerous trophies to his name, would bring back a winning mentality that is currently lacking. Plus he would serves as a mentor for Romagnoli and the rest of defensive department.
AGE AND WAGE – But let's move on to the painful notes. Thiago Silva, despite his precious experience, his physique no longer allows him to be as reactive and brilliant as he once was. The PSG captain will turn 36 in September and Elliott and Gazidis' policy of avoiding players over 26 is quite clear as well as consistent, although with certian exceptions.
There is also the salary. At PSG Silva has been one of the highest paid players in France with a salary of over 10 million euros per year, a figure well out of reach for the Milanese club. The road, therefore, is far from downhill, but the chances of a sensational return are certainly not low.
---
READ MORE: Coach contacts AC Milan and offers himself