Referee Calvarese and a series of wrong decisions against Milan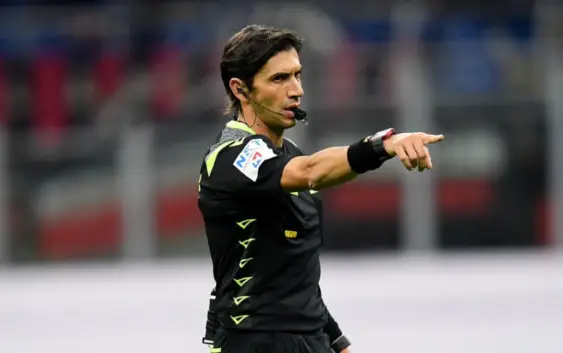 Once again a wrong decision from referee Gianpaolo Calvarese costs AC Milan three points. Another mistake in a series of episodes.
For the 20th time in history Fiorentina vs AC Milan ends in a 1-1 draw at Artemio Franchi Stadium. The Rossoneri lead until the 85th minute when a controversial penalty awarded for the Viola prevents AC Milan from winning the three points.
It was a night of the exes with former Fiorentina striker Ante Rebic scoring the opening for Milan and former Rossoneri talent Patrick Cutrone winning the penalty later transformed in goal by Pulgar. Nevertheless, what will be remembered more are the controversial decisions of referee Gianpaolo Calvarese.
In the first half VAR cancels a fantastic goal by Zlatan Ibrahimovic who dribbles many defenders before scoring. VAR cancels the goal because of a hand ball but Zlatan's arms are down and in a natural position. What follows is even worse. In the 83rd minute, Calvarese awards a penalty to Fiorentina but Roamgnoli is clearly seen touch the ball first. The referee doesn't go to check with VAR.
What happened tonight in Fiorentina-Milan is not the first controversial episode against the Rossoneri that sees referee Calvarese as protagonist. The Italian referee was at the VAR room in Roma-Milan last year, when Kolarov smacked down Suso in the penalty area, and in Juventus-Milan, also last season, on the occasion of the clear hand ball of Alex Sandro on Calhanoglu's cross. In both cases penalty was not granted to the Rossoneri, with Calvarese in the VAR room not correcting the wrong decisions of the referees.
The situation has clearly angered coach Stefano Pioli. "From the bench you could see that Romagnoli touches the ball and clears it. The referee may be wrong, but there is the VAR and one must check on such situations. Too bad, we could have won and we have our responsibilities but in recent matches we've seen strange decisions against us", said Pioli.
---
READ MORE: Lucas Paqueta infuriates Ibrahimovic