Sky: How Pioli motivated his squad with Calhanoglu photo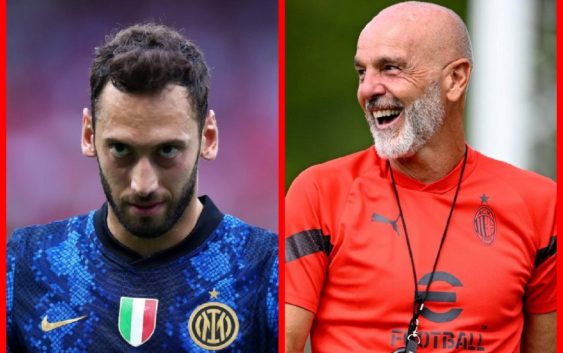 Sky Sport reveals a particular move from Stefano Pioli to motive his squad in preparation for the derby against Inter.
One thing is certain. The derby last night, regardless of the final result, was intense and hard fought. AC Milan entered the pitch with more grit and eager to win at all cost. At the end their efforts paid off.
From the first minutes of the derby, it was clear that the match would be anything but a match of courtesies. Just think of the lack of a handshake between Theo Hernandez and Hakan Calhanoglu before the initial whistle, which generated the first sparks of the match.
But there are many episodes that made AC Milan vs Inter a challenge of great struggle and nerves. Sky Sport reports a very interesting background on the preparation of the derby from the Rossoneri with Hakan Calhanoglu being the protagonist once again.
In the days preceding the direct clash at San Siro, Stefano Pioli charged his boys in a very particular way. The Rossoneri coach had hanged a photo of Calhanoglu in squad's locker room at Milanello. The Turkish attacking midfielder caused a lot of noise following his transfer to Inter last year.
Pioli showed to all his players and staff the image of Calhanoglu with the phrase from the Turkish of the last few days written on it: "We have fire inside". A sort of warning from the coach to his players, with the intention of speaking less and acting more on the pitch, taking the controversial former AC Milan player as a starting point. Pioli's gesture has been considered a provocation rom the Inter fans.
Nevertheless, Pioli's bold move paid off. AC Milan dominated the match and won the derby. On the other side, Calhanoglu, who was charged in various interviews leading up to the derby, made numerous mistakes and was named as the worst performer on the pitch. A clear example that the real talk is always done on the pitch. 
---
READ MORE: AC Milan end the mercato with 7 signings and 12 exits