The motivation behind the Bonucci-Rebic quarrel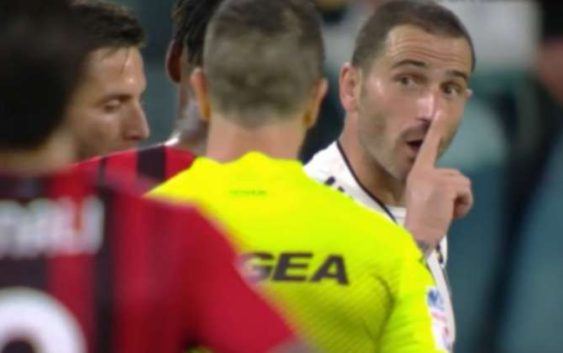 Last night, during Juventus-Milan, a not-so-friendly episode happened between Ante Rebic and Leonardo Bonucci in the second half.
Yesterday's encounter between Juventus and AC Milan was a correct and not overly nervous match at the Allianz Stadium. Except for an episode that ignited the second half. The protagonist were Leonardo Bonucci and Ante Rebic, two important players of each team. A tense exchange of words and gestures from a distance that risked aggravating the match.
On social media, Bonucci appeared to make a gesture to silence Rebic. A sort of mockery from the former AC Milan player at his rival, perhaps guilty of protesting too much. Many have interpreted this scene as a provocation on the part of Bonucci that would have actually motivated Rebic's goal.
In fact, no provocative gesture was made because of what was happening on the pitch. On the contrary, everything arose due to some noisy demonstrations that came from the stands. The quarrel between the two players was born after some choirs from the Juventus fans.
Rebic, targeted by the whistles and chants, made a silencing gesture towards the Bianconeri fans because he was annoyed. At that point Bonucci intervened, establishing himself as the Juventus leader, to defend his fans and discussed at a distance with the AC Milan striker, telling him to stop with the finger gesture on his nose.
"You shut up, you don't say it!" – Bonucci shouted at Rebic. A protest that unleashed the world of social media, in particular the Milan fans who cannot fail to remember the classic celebration of the Juventus player when he scores. Or when it was himself in the Milan shirt who silenced the Stadium by scoring the goal of the momentary draw in Juventus vs Milan that ended 3-1 during the 2017/2018 season.
The fact is that the bickering helped Rebic to respond on the pitch. A few minutes later the Croatian striker found the back of the net with a beautiful header after a pinpoint cross from Sandro Tonali. The game ended 1-1 with Rebic scoring his third consecutive goal against Juventus.
---
READ MORE: AC Milan offered €25m-rated striker for free