Tonali reveals conversation with Donnarumma after Scudetto win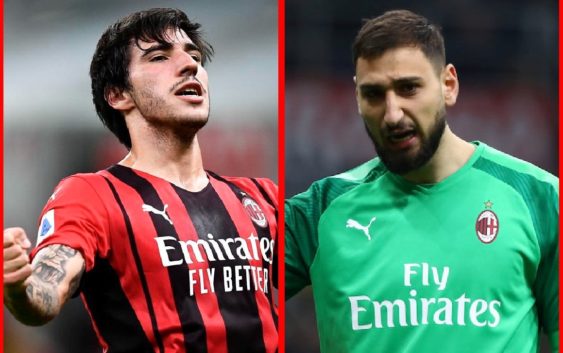 AC Milan midfielder Sandro Tonali spoke to former teammate Gianluigi Donnarumma after the Scudetto victory.
AC Milan win their 19th Scudetto in dramatic fashion, in the very last match of the season. Milano is red and a sea of fans invaded the main squares to celebrate together with the players. One of the Rossoneri that has played a key part in the Scudetto win is without a doubt Sandro Tonali.
After a difficult first season the Italian defensive midfielder has established himself as a key pillar of Stefano Pioli's starting eleven. The 22-year-old commanding midfielder made 45 appearances this season, scoring 5 goals and assisting 3. His last gasp goal against Lazio proved to be decisive in the title race.
Not considered favorites for the title, AC Milan ended the season with 86 points "I think we weren't the strongest team in the league this year, but we have shown we can do anything together. I think Inter were the strongest at squad level. But we have put in everything that has allowed us to become the strongest team in the league", said Sandro.
Tonali later reveals to have had a conversation with Gianluigi Donnarumma after the Scudetto win. "Donnarumma wrote me. I hope he is as happy with our success as I am with his. He went to Paris and won immediately, he knew that here there was a path to follow. Brick by brick we built our victory."
Sandro Tonali joined AC Milan from Brescia in 2020 for a transfer fee of 20 million euros. Thanks to some excellent performances this season his price tag has risen to around €50 million. Nevertheless, the Rossoneri have no intention to lose one of their most prized assets and plan to extend his contract very soon.
---
READ MORE: AC Milan weight up bid for Real Madrid winger