Two AC Milan players nominated for U21 Ballon d'Or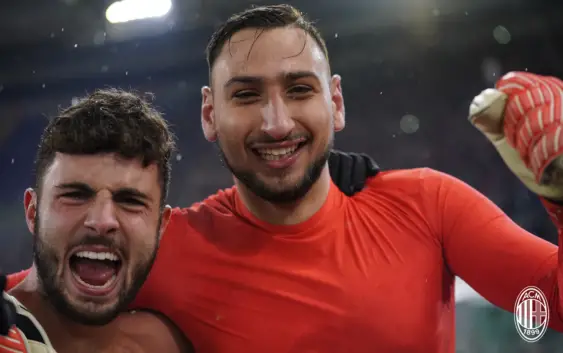 AC Milan young stars Gianluigi Donnarumma and Patrick Cutrone have been nominated for the Under 21 Ballon d'Or.
For the first time ever, France Football announced the creation of two new trophies. The Women's Ballon d'Or, rewarding the best female football player and the Kopa Trophy, which will be awarded to the best Under-21 player in the World.
The Kopa Trophy has a special significance because the winner will be chosen by 33 living winners of the Ballon d'Or, including legends like Michel Platini, Marco Van Basten, Cristiano Ronaldo and Lionel Messi.
Today, the French magazine France Football announced the nominees for the Kopa Trophy. Ten players will battle for the prestigious trophy: Aouar, Alexander-Arnold, Doan, Haidara, Mbappe, Pulisic, Kluivert, Rodrygo and the two Rossoneri stars Patrick Cutrone and Gianluigi Donnarumma.
Huge appreciation for the two former Primavera stars who are now leading the first squad. The 19 year old goalkeeper has made 132 appearances with the Red and Black jersey while the young striker has scored 21 goals in 53 games for the Rossoneri.
Our nominees for the first ever Kopa Trophy!

🇫🇷@HoussemAouar / @OL
🏴󠁧󠁢󠁥󠁮󠁧󠁿@trentaa98 / @LFC
🇮🇹Patrick Cutrone / @acmilan
🇯🇵@lovelovesoccer5 / @fcgroningen
🇮🇹@gigiodonna1 / @acmilan

5/10 #kopatrophy pic.twitter.com/kHkFKm19oV

— #ballondor (@francefootball) October 8, 2018