Why Giampaolo was wrong from the beginning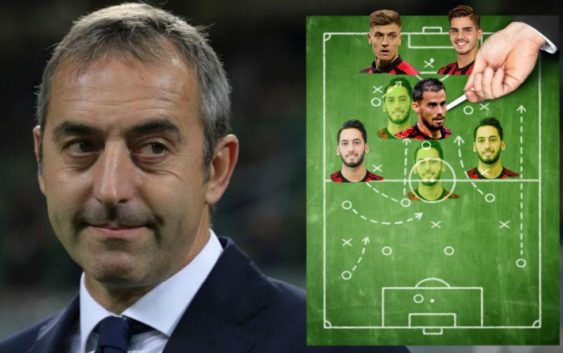 The match against Genoa showed that, contrary to Giampaolo's thought, the summer signings can and should play more for
AC Milan.
Back to winning ways. After three consecutive defeats, AC Milan bounce back with a win. And yet, at the end of the second-half, it seemed like we were going to hear the same depressing music of recent games.
A two-faced AC Milan squad that managed to overturn the result in the second-half. In the first 45 minutes we saw the same timid and scared team of recent games while in the second-half the Rososneri were determined to win at all costs. Determination and grinta for victory that we had never seen this season.
Coach Marco Giampaolo changed the course of the match with a single move on the 46th minute. Lucas Paqueta and Rafael Leao substituted Hakan Calhanoglu and Piatek. The Brazilian assisted Theo Hernandez's first goal and was the creative force in midfielder while the young Portuguese striker won the penalty that was transformed in goal by Kessie and seemed dangerous every time he had the ball in his feet.
Yesterday's match proved that Marco Giampaolo was wrong from the beginning. The summer signings are ready and deserve to play much more for AC Milan. Theo Hernandez showed that he's a totally different player from Rodriguez and can contribute much more that the Swiss left-back in attack. Modern football requires fast full-backs that can help than team in attack as much as in defence. Rodriguez can only do half.
Leo Duarte had to wait for Musacchio's red card to make his debut in Serie A. The Brazilian defender partnered well with captain Romagnoli at the center of the defence demonstrating that he can be much more than a second choice. Giamapolo should start to use him more considering Musacchio's difficult history at performing at the highest levels.
Rafael Leao on the other hand is cementing his place as a regular under Giampaolo. Even if he started from the bench yesterday, the fans can rest assured that the Portuguese striker will play from the start next time. Gifted with great dribbling skills, fast and skillful on the ball, Leao looks destined for great things in the future. Giampaolo's next step should be the inclusion of Ante Rebic. Perhaps in Suso' place?
READ MORE: Zidane wants AC Milan star at Real Madrid