5 Things we learned after Milan vs Crotone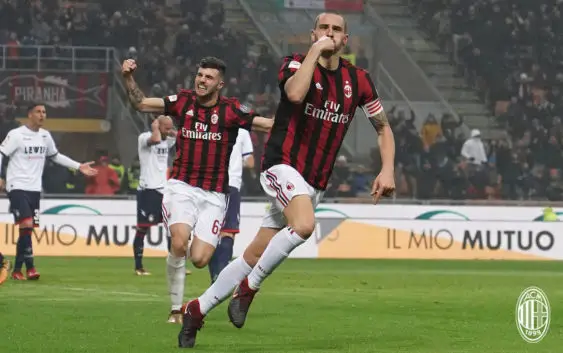 A win was needed to start 2018 on the right foot and the Rossoneri delivered. It's all motivation from Rino Gattuso to his boys.
1- PUTTING THE GAME TO BED
Being reminded of the aspects to improve at the end of the game is part of the team's progress. It's exactly what Rino Gattuso did. After creating so many clear-cut opportunities, the boss was not pleased after suffering during the last minutes of the match and he reminded the boys that they need to put the games to bed.
2- BONUCCI'S GOAL
In the last days, two exciting events have happened at AC Milan: the team's celebration with the Curva Sud in the Milan derby and Leonardo Bonucci's goal, followed by his distinctive celebration. These fantastic moments are good for the boys' self-esteem, the team's spirit and the cohesion of the group. To repeat them, the players must insist and continue to improve.
3- THE TRANSFER MARKET AND THE SQUAD
The club management's decision not to dip into the transfer market is a sign of appreciation towards the current players of the team. Despite the tough start to the season, AC Milan have decided not to make any moves in the transfer window and to trust the current squad. This is a sign of stability and confidence, which should allow the lads to restart in the best psychological conditions after the break.
4- IT'S NOT JUST BONUCCI
The match against Crotone was very important for Gigio Donnarumma, who returned to the goal at his home, San Siro, in front of his fans. An important situation solved, also thanks to the tough test passed in Coppa Italia by his older brother and great athlete Antonio Donnarumma.
5- HAKAN'S SKILLS
After another positive performance, Calhanoglu was again close to scoring at San Siro, where he has not been able yet to find the back of the net. He has scored two goals in Serie A both away, in Verona and Florence. However, his good display is what matters the most, participating in the key plays and showing impressive individual skills. Once he manages to connect completely with Bonaventura, as the Red and Black coach wants them to do, we will probably see more magic from these two.
---
---