A Speedy Gonzales for 3 roles: Why Diego Laxalt could be AC Milan's most important signing this season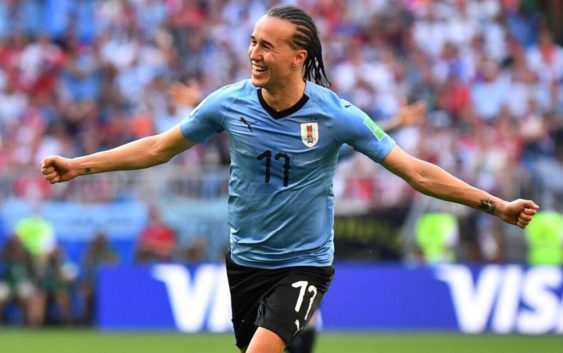 During the World Cup in Russia, when Diego Laxalt was excelling on the Uruguayan left flank, it was a common question to ask why, despite the experience gained between Serie A and national team, no "big" had offered a (real) chance to the native of Montevideo. The 25 year old arrived in Italy in 2013, bought by Inter, but then immediately moved to Bologna in co-ownership, never completing the reverse path.
In his Italian adventure, Laxalt has played numerous roles: at Bologna, at the helm of Pioli, the boy was played as left winger, left midfielder and even as central midfielder. On his debut in Serie A, on September 25, 2013, he scored two goals at the Dall'Ara Stadium against AC Milan: a dream debut that clearly marked his destiny.
After Bologna, Laxalt had a brief experience at Empoli and later transferred to Genoa in January 2014, where he played for three and a half seasons. The turning point, under the guidance of a "sculptor" like Gasperini, with a precise and constant use as left midfielder, a role where the Uruguayan was able to bring out his innate qualities of speed and resistance, without forgetting the good technical qualities and of a decent propensity to score.
Although not a striker, and having more tasks of pushing forward and sacrifice rather than finalization, Laxalt has scored 8 times during his stay in Liguria. The most prestigious showcase came just this year, with the convocation of Tabarez for Russia 2018. The legendary coach, at home, not surprisingly called "El Maestro", chose for him a new position, that of left-back. And Laxalt not only answered but also excelled in a very high-profile competition, in a role where he also performed well in the defensive phase.
Now, the big doubt is the following: for which position did AC Milan decide to buy Laxalt? We assume that the twenty-five year old South American can play, indistinctly, as left winger, left midfielder and left back, so in a masterstroke the Rossoneri covered the entire left flank. Yet, judging by the meticulous precision of the duo Leonardo-Maldini, it is hard to believe that Diego was hired as a simple jolly or alternative. Laxalt, for speed and acceleration, is certainly one of the most valuable Rossoneri.
And in a team that has always struggled to "incite", the feeling is that the now former Genoa will play many games and will turn into a precious purchase for the fate of AC Milan this year. After an underwhelming last season from Ricardo Rodriguez and without any proper left midfielders in the squad it was time to enhance the current group of players. Buena suerte Diego!
---
---