AC Milan are in recovery – the last thing they need is Ivan Gazidis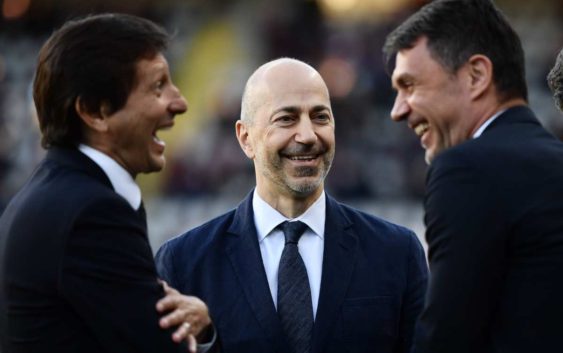 Ivan Gazidis was a failure at Arsenal and his injection into an AC Milan team showing promise won't work out.
Just when it seemed there was finally some light at the end of the tunnel for AC Milan's long-suffering fans, a civil war erupts at San Siro. On one side there is CEO Ivan Gazidis, while on the other end there is Chief Football Officer Zvonimir Boban and technical director Paolo Maldini
The first public shot was fired on Friday evening by Boban, who confirmed reports that Gazidis had secretly been in talks with Ralph Rangnick to take over this summer either as coach, sporting director or in an all-encompassing role.
In an explosive interview with Gazzetta dello Sport, Boban branded Gazidis "disrespectful and inelegant" for contacting Ralf Rangnick behind his back and blasted the CEO for destabilising the club.
Gazidis has the full backing of Elliott Management Corporation, who assumed control of Milan in 2018 when previous owner Li Yonghong failed to repay his €300 million loan to the American hedge fund. Thus, a summer departure for Boban and Maldini, after less than a year in their roles, now seems likely. Such an outcome would signal the fourth change at management level in as many years at San Siro.
It is a sorry state of affairs for a fallen giant that is badly in need of stability. Milan have been through 10 coaches in the last six years and last played in the Champions League in 2013-14.
There have been many false dawns since those crumbling final days of Silvio Berlusconi's empire, the most recent of which was the appointment of former Arsenal chief executive Gazidis as CEO in December 2018.
Elliott's press release hailed Gazidis as a "world-class CEO who led Arsenal to both on-field success and off-field prosperity".
The reality in north London was very different. While he did some decent work on a commercial level, he was a huge failure in a sporting sense. During over nine years in the job, Arsenal never once challenged for the league title. They finished fourth four times, third on three occasions, second once, and were fifth and sixth in his final two seasons.
Elliott also boasted how Gazidis had led Arsenal to the Champions League eight years in a row. They omitted the fact that for a record-breaking seven successive years, the Gunners failed to win a knockout tie.
The only semi-notable sporting success under Gazidis was winning three FA Cup trophies. However, this is a competition with so little prestige now that teams often deploy their reserves.
Compare this record with Gazidis' predecessor David Dein, the man who hired Arsene Wenger. In Dein's last nine years in power, Arsenal only once finished outside the top two, the year they reached the Champions League final. Three league titles (and five FA Cups) were won during that time, including in the unbeaten Invincibles season.
Dein and Wenger were once described as English football's Lennon and McCartney, but that partnership totally disintegrated when Gazidis came on board.
Although Gazidis was hamstrung by a lack of personal investment and leadership from owner Stan Kroenke, not to mention Arsenal's stadium debt, his legacy is undoubtedly one of failure.
He was guilty of poor transfer recruitment and dreadful mismanagement when it came to player contracts, allowing numerous stars to run into the final year of their deals.
This resulted in Aaron Ramsey joining Juventus on a Bosman, Alexis Sanchez being offloaded to Man Utd mid-season on a cut-price deal, and Mesut Ozil being recklessly gifted the most lucrative deal in Arsenal's history. Going further back, the likes of Robin van Persie and Samir Nasri also had expiring deals when they left at knockdown prices.
Gazidis was responsible for finally dragging the club into the twenty-first century by removing Wenger and instilling a modern management structure. However, Arsenal have declined even further on the pitch since these belated changes were made.
The man Gazidis chose to succeed Wenger as manager, Unai Emery, endured a miserable 18 months at the club. Arsenal failed to qualify for the Champions League for a third successive season and Emery was sacked last November. The club embarrassingly find themselves in 10th position this season and are already out of Europe. So does Gazidis, on a salary of €4m a year, sound like the man to take Milan back to the top?
It is true that Boban and Maldini lack some directorial experience. The duo made a mistake in advocating the appointment of Marco Giampaolo, who was sacked after just seven games in favour of Stefano Pioli.
However, their strategy of mixing experienced players with youngsters, a strategy Gazidis has opposed, is really starting to reap rewards. Zlatan Ibrahimovic, has had a huge impact in bringing out the best of talents such as Ismael Bennacer and Theo Hernandez. Ante Rebic has also exploded since the January arrival of Zlatan, scoring seven goals in his last eight games. Five of these broke the deadlock, while a further three were decisive strikes.
In 11 games in 2020, the Rossoneri have lost just once. They also progressed into the Coppa Italia semi-finals, outplaying Juventus in a 1-1 first-leg draw. While it is true that Gazidis' main mandate is to sort out the financial mess Elliott inherited and this will take time, the last thing the club needs now is another managerial revolution.
The prospect of culling two Milan legends won't deter Elliott, though. Given its ruthless record of buying up vulnerable companies and swiftly selling on for profit, nothing and no one will get in the way of executing its lucrative exit strategy.
That likely spells bad news for Boban and Maldini, and bad news for Milan's success-starved fans.
---