AC Milan tactical analysis – Why has Milan failed and how to improve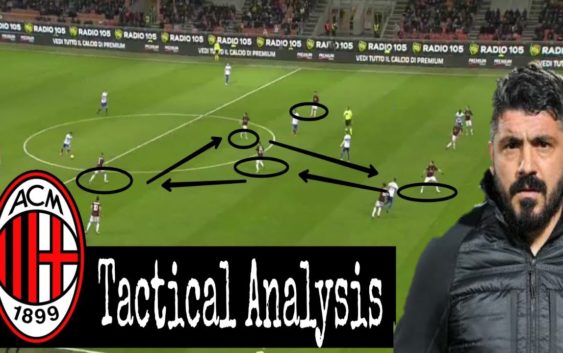 Another season without Champions League is coming to an end. It's time to make a tactical analysis of AC Milan this season, why the Rossoneri failed and how to improve.  
This writing is created simply because of AC Milan, one of the greatest clubs in the whole world, is getting demolished, even by clubs of mediocre stature. In this writing, the writer expects, this whole-heartedly letter can be used for reaching one goal only. And that is AC Milan's resurgence, a club that I have been supporting for years. The Rossoneri are getting demolished even by clubs of mediocre stature.
I have supported AC Milan right from the start, when I learned what is football. You see great players like Maldini, Costacurta, Nesta, Kaka, Pirlo, Gattuso, Inzaghi, of course you'd love this club right away. AC Milan is one of the most successful clubs in the world. But nowadays, that big name isn't there anymore.  Any younger generation would only say, "AC Milan? Oh the mediocre club that can only brag about the past?", and that really hurts a lot. Now, with Elliot at the helm, and I can see that Elliot is serious about bringing Milan back to the top, I'm starting to have hope again.
Unfortunately, with great ambitions and goals, Gattuso or coaching staff seem very stubborn to the same tactics (which from what we have seen in more than 40 matches this season, it's not working AT ALL). What are the game plans? I can only see that the sole game plan is to give the ball to Suso and just hope he lands a cross and someone tries to strike the ball. Does it work? If it worked, we won't be fighting for the 4-8 places. It seems like Paqueta, Romagnoli and Piatek are the only players who deserve to wear the AC Milan jersey these days. And I seriously feel bad for Piatek. He was Serie A's top scorer until he joined Milan and now he's become practically useless. How did that happen? Well, WE HAVE NO REAL GAME PLAN.
Now, I love Gattuso. I really do. He played with heart (and quoting Gattuso's interview when he worked in Greece, played with balls). As Italians say, Grinta. But, when Gattuso played, was Grinta alone enough to lift trophies like Champions League? No. We had smart creative players like Kaka and Pirlo. Plus the best poacher in history, Inzaghi. Of course we could easily unlock any defence. Back to present era, I still support Gattuso, no matter how many people are screaming Gattuso out. But we can't play games like this every time. Here are some examples why AC Milan have made grave tactical errors in almost every match.
STARTING ATTACK FROM THE BACK
It's never a good thing, to only have 1 way to start the attack. Donnarumma only passes to the back 5, most of the time, he passes the ball to Ricardo Rodriguez. Sure, you can do that 2-3 times per matches. But if every time we build attack that way, our opponents can easily adapt and high press our defensive line. And as expected, that leads to A LOT of blunders, misplaced passes, intercepted passes, or even lost possession that leads to conceded goals.
ONLY ONE PATTERN OF ATTACK
I have watched all AC Milan games this season, and believe me, as a person who needs to travel for work that isn't easy. However, every time I watched Milan, I could see only ONE/SINGLE pattern of attack. And that is "Give the ball to Suso, and hope for the best". Sure it worked for a couple of early matches. But now (not really now, it's happened for a long time, and still happening), our opponents know the only way we play. How they counter us? It's simple.
Enemy fullbacks will tight-mark Suso, who doesn't have the physical attribute to beat his marker (he could't even outpace a 33 years old Kolarov). The result, Suso can't even hold the ball. The Spaniard is getting bullied almost all the time recently, and Gattuso still insists on playing this way, hoping that Suso somehow becomes 1/3 of Ronaldinho.
If somehow Suso can escape from the situation above, he will do one of the followings. Suso cuts inside then shoots, makes a swinging cross, through ball to Kessie with his underlap run, or opens space then through ball to overlaping right back. The inability to change attacking strategy has proven costly and now every opponents knows how to beat this game system.
Now let's see what happens when Suso achieves one of the 4 options he has:
Cut inside then shoot. How many times, when opponents play against Milan, they park the bus? A LOT of times. Every time Suso shoots, let's admit it. He's no Messi or Robben. But he's quite good to be honest, it's just that his shooting is always predictable and often lacks velocity. Opposition defense can stack some players to block the shots, leaving Suso only able to aim for the far post, and that's already anticipated.
Cut inside then make swinging cross. Again, with players stack in the penalty area, how can you expect our poachers to get the ball? Most of the time, it's 1 against 3, even 5. At best, you will see Calhanoglu getting inside and trying to get the ball. But one thing for sure, HE'S NOT A STRIKER. He just doesn't has what it takes to be at the end of the cross. So it will be a situation of 2 vs 3 or 2 vs 5? What about Kessie? He's also frequently making deep runs to the opposition's penalty area. Yes, but he always stands on the area near the post, not the place where you want a great physical player to be, and not where Suso chooses to cross (which is the far post most of the time).
Through ball to Kessie. Kessie is a player with great physical abilities. But technically, he's just not good enough. What will Kessie do next? He doesn't have the intelligence nor technique to produce the end what we expect. Playing with physical not creative midfielders never pays off.
Opening some space for right back to overlap. Again, good alternatives for attack. But as always, the cross, no matter how good of a crosser you are, even Cafu or Roberto Carlos would have a hard time if there is only one great striker against 3 to 5 defending players in the penalty area.
IF ALL ELSE FAIL
Now, we know that anything Milan did, up to this point, has failed miserably on the pitch. If Suso got shutdown, there are no alternatives. Well there is one option coach Gattuso has tried and that is attacking from left side. How AC Milan does it? Calhanoglu cuts inside and shoots most of the time. Unfortunately, based on some stats, he has already shot 82 times, with 56 shots coming from outside the box. How many goals he scored? Two in 42 appearances. How did this happen?
Instruction from Gattuso? Maybe the coach doesn't instruct him this way. Maybe it's because after Calhanoglu cuts inside, he just has no other alternative, so he's forced to shoot. But, as people say: "The definition of insanity is doing the same thing over and over again, but expecting different results".

Left backs rarely makes overlaping runs. Why? Rodriguez with the Swiss national team plays very offensively. And he can provide some great crosses, definitely far better than our right backs do. Why is he tactically instructed to play defensively? To maintain the back 3 just in case counter attack opportunities occurred?

Kessie most of the time is nowhere to be found. If Calhanoglu plays like Suso, he can just make more swinging crosses but is Kessie who should outmuscle defenders and locate himself near the penalty area.
The problem with Gattuso's system is evident even to those who do not hold a coaching license. It's easy to criticize but remember that even with Montella things worked in a similar way. It's difficult to judge maybe it's an internal issue of the team. In every match this season Milan has played either without Grinta (I expected a lot from a team that's handled by one of the most passionate players I've ever seen in my life. I hoped that almost in every post-match press conference, Gattuso would explode and show his determination like when he exploded in a press conference while at OFI Crete around 2014), or we're just running around, still full of Grinta, but again, without a proper game plan to produce the end-goal.
What is the solution? First of all, CHANGE THE WAY MILAN PLAYS. A great team shouldn't just have one pattern of attack. I know that MOST of our players are not champions material. To be honest, only Donnarumma, Romagnoli, Paqueta, and Piatek are worthy to be in a great club like AC Milan. But do the rest of the squad have worse abilities than the likes of Parma, Sampdoria, Olympiakos players? Most of the time we played badly and got destroyed by mid-table club, are we seriously that bad?
I know, we only have 4 games left. What's worse that could happen right? At worst, Milan can drop to 8-9th, what's the harm. Europa league has never brought any joy to us. To be honest it has mostly been like free vacation for some highly paid players.
4-2-3-1 WITH PAQUETA AS MAIN ATTACK FOCUS
Why Paqueta? Because he's the best and most creative player we have right now. And have you seen how easily he holds the ball even against 3 players? Play him more up front behind Piatek who's one of the best strikers in Serie A. When the Pole doesn't score that's only because he's too isolated in attack. With the right support the 23-year-old is a killing machine in front of the goal. Kessie and Bakayoko can be the holding midfielders, sometimes pushing forward a little bit, or just cover overlaping fullback easily, since their positions are to naturally close opened spaces. Paqueta should work up front as attacking midfielder free to run around where the play is made.
The goal of this formation is to get inside the penalty area A LOT MORE than with the current formation. Search for penalties, more players inside means more hands/foul potential. The last 4 matches are not against Juventus and referees won't be as bad as those on Juves' payroll. Plus, this is one of the few ways for now, to beat park the bus system deployed by small teams.
Paqueta, as the main attacking threat will hover around supporting Castillejo and Suso, playing A LOT of one-twos.
Castillejo plays more aggressively then traditional wingers, he dribbles more, beats opposition defenders and offers quick low crosses for Piatek/Paqueta who arrives easily in the penalty area since his position is AMF.
With Fullback pushing and overlaping, 2 Holding Midfielders can protect and cover the midfield. Making a risk-free overlap, since there're still 4-5 players on the back. (PLAY KESSIE AS HOLDING MIDFIELDER, NOT BOX TO BOX. HE'S NOT PRIME GERRARD/PRIME SEEDORF)
Suso, he really is a one dimensional player. Play him like before. But place Paqueta near him to allow some one-two passes creating some disruption on opposition's defense. Fullback overlap more freely and force the oppositions to make mistakes.
DEFEND WIDE AREAS. How many crosses, wingers cutting inside have destroyed this Milan this year. Solution, defend WIDER. Don't let them get inside the penalty area. Our fullbacks are often late in covering those areas because Gattuso's system forces them to defend narrow.
2 Holding midfielders can easily be the 3rd-4th centre backs. Near holding midfielder can cover the penalty area if needed, and the far holding midfielder can help cover any long shots with Paqueta.

If the situation is not that dangerous, 2 Holding midfielder can form a 3-man line soaking some penetration from center.

Suso/Castillejo/Piatek must FALL BACK. Help depending on the situation. 3 of them can mark opposition's defensive midfielders or centre backs.

This team CAN NOT COUNTER ATTACK. So don't bother, how many counters have we squandered. Better hold the ball, and play it slow. Play Total football style. Defend together, Attack together.
In goal kick situations, now we have 3 patterns of ball distribution. The usual short pass, and 2 additional long balls. Paqueta in flexible position can fill any void space easily.

Short pass – the same 5 options, with Paqueta closing in to offer some flexibility. The difference is that fullback will push forward instead of holding the ball until some players find space/back pass to GK.

Side long balls – with fullbacks pushing early, and sometimes Kessie/Bakayoko also helping, it transforms us mostly in a situation where 4-5 of our players are against 3 of them.

WE CAN NOT SEND THE LONG BALL TO THE CENTER AREA. Unless our strikers are strong players like Giroud or Lukaku to duel opposition's central defender who usually have big physique.
OR IF GATTUSO AND STAFF ARE  STILL STUBBORN AND PLAY 4-3-3
Most likely Gennaro Gattuso and his staff will not risk and continue to play like this until the end of the season. I really hope that Maldini and/or Leonardo slap some sense to them. In this scenario this is the only way to fix this tactics.
PLAY 1 STRIKER AS WIDE TARGET MAN. If Gattuso really loves how this team works, at least create a system that can thrive on it. We all know that Suso loves to cut inside and do the rest. Why not just create a system around it?

Cutrone has played left wing before but in reality he must be the wide poacher. And Kessie should swap position with Paqueta in this system.

Right wing still the focus of attack. But now with addition of Paqueta that has far better technical abilities than Kessie, and can offer better creativity in final third.

Left side players will be the 3 players trying to get to the end of the swinging crosses coming from Suso or others who supply from right side.
With this system, finalizing crosses would have better chances than before, since now we have 2 strikers and 1 strong midfielder that can contest the ball. Now it's 3 vs 5 or 3 vs 3 against park the bus system.

Paqueta adds more creative options so that Suso won't be the only marked player on opposition's left defense, which in turn gives Suso more space.

Rodriguez can push a little bit forward to cover any lost balls, with Paqueta and Bakayoko also covering, which makes 3 players ready to recover the ball.

With Rodriguez pushed a little bit forward, Cutrone, Piatek, Kessie can enter the positions area waiting a floating cross from Rodriguez (he also has a good swerve too, this kind of dangerous cross must be utilized).

Technically we have 3 players at the back, but in reality 4 since Rodriguez doesn't need to overlap too far.
Again, DEFEND WIDE AREAS. Pull Bakayoko deeper to be the third center back. Give Paqueta the role of long-shot stopper alongside Kessie, even Suso if needed.
Suso must contribute in defensive phase, at least do what Pirlo could do. Covering and blocking pass trajectory. It's such a waste that Suso stays only up front, since he can't really start a counter on his own because he's not a very fast player.

Paqueta can mark opposition's holding midfielder if the area behind him is risk-free so that Kessie/Suso can cover more central area.

Either Piatek or Cutrone should mark advancing centre backs, or defensive midfielders/regista.

Again, THIS TEAM CAN NOT COUNTER ATTACK. We just don't have the ability nor the speed to break opposition's defense properly. Let's just say we get to the counter attack opportunity, what's next? Our forwards are all poacher style, all of them don't have great vision/passing ability to help smoothen the counter attack. Play it from the back, hold the ball, take it slow.
NEVER PLAY SHORT PASS IN THIS SYSTEM. Unless the players are products of La Masia or something. This kind of short passing system has never worked so far.

Paqueta is the dynamic player, he can join each option of ball distribution easily in this system.

"Short" pass to right side like usual, but pass it further to increase the safety of ball-carrier. This can't be stressed enough, but if the play is build from very deep areas, our fullback would only have 2-3 options to pass at best. But if the ball is played further, our fullback will have better diamond passing options, even the 4th man can arrive easily to give offer options. Long ball passes to the area where our strongest headers are (naturally, our wide poacher). Again, opponent fullbacks usually are not good headers, exploit that weakness.
It's important to create a system that utilizes the players strengths to cover their weakness. Just like Ancelotti's diamond shaped formation. Gattuso of all people should understand. He couldn't dribble, he couldn't shoot, he couldn't create play. So what did Ancelotti do? He created a system that could cover Gattuso's limitation and exploit his abilities. And now, he should do the same with his AC Milan.
---
---