Albertini compares Tonali to Juventus legend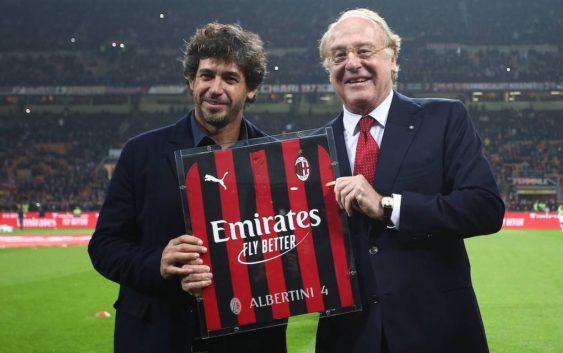 Former AC Milan midfielder Demetrio Albertini gives his take on Sandro Tonali surprisingly comparing him to a Juventus legend.
Sandro Tonali is the soul of AC Milan. Not just for the goals scored but mostly for his spirit. He fully embodies what it means to be a Rossoneri fan and gives everything on the pitch for the Red and Black colors. After a difficult first year, the 22-year-old has established himself as one of the best midfielders in Italy and beyond.
AC Milan legend Demetrio Albertini, spoke about Tonali recently. The path of Albertini and that of Tonali are very similar, because even Demetrio, at a very young age was playing an important role for the Rossoneri squad. The former Brescia talent has performed greatly this season and for a long time has been compared to Pirlo, Gattuso and De Rossi.
Many insiders compare him to Pirlo for his vision of the game, perhaps even a little for his hair. Others compare him to Gattuso for his determination, but also because Tonali has always declared that he is inspired by Rino. Others say he resembles Daniele De Rossi since he perfectly embodies the spirit of the player-fan. But Albertini thinks otherwise.
In an interview with La Gazzetta dello Sport, Demetrio Albertini compares Sandro Tonali to Juventus legend Antonio Conte. : "Some time ago I said I saw myself a lot in him, but only because at that age I was also playing for Milan. In reality, I went much less often in the opponent's area. Tonali reminds me a lot of Antonio Conte, because he is a real driver of the squad. He knows how to move forward very well, he's a modern midfielder".
Tonali as Conte, according to Albertini, who continues: "I was surprised by Pioli's move against Verona putting Tonali closer to the strikers rather than Kessie. Great choice of the coach, who proves to have a pulse. These decisions change the games. Tonali today is priceless, also because he is not for sale. If he were to continue like this, he will be worth much more than 50 million euros… Despite being so young, he already has a lot of leadership, obviously experience is accumulated by playing more and more, but he is already at an excellent point. Some time ago I spoke with Pioli, who is my "neighbor". He told me about the exponential growth of Sandro and Rafa Leao. The facts confirm this".
---
READ MORE: AC Milan have only 4 top players