All the reactions after Milan 1-0 Crotone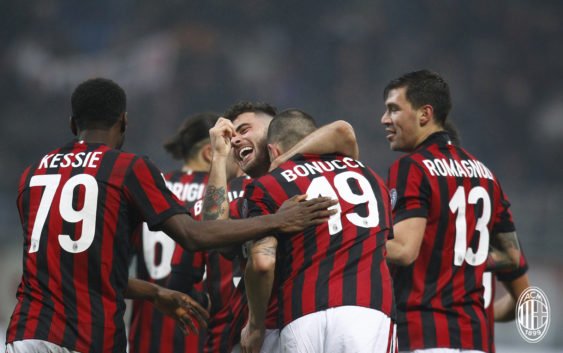 All the reactions of the Rossoneri environment after AC Milan's narrow win against Crotone thanks to a goal by captain Leo Bonucci.
Sports director Massimiliano Mirabelli was interviewed by Sky Sports after the game at San Siro.
On the summer market: "I am quite calm, the calculations are made at the end of the season. We believe we have created a good team of young people, it is true that we are having great difficulties, but it is also true that this group of players has an important (financial) value in comparssion with value of the players when we bought the club. We have increased the value of these players, it may seem strange because we are not performing well, but we go forward and we think we can do well in the future".
On the market: "We are attentive every month, every day of the year, we travel and watch lots of games, never say never on the market, but we do not intend to intervene in any way on this group. We want to improve the players we have, Gattuso is doing a great job to make this group a great team".
On Kalinic and Andre Silva: "They are two players who have done very little in the league, but if we were to put them on the market today we would made an extra euro and not a euro less. All players are below our expectations about them, but we do not have a problem of players devaluation".
On the market in Europe: "Now you have to get used to crazy figures, there are clubs like in England, France and Spain that raise the market level in an exaggerated way, which is why we have to invent something and not go behind these figures".
Stats- The match in 4 numbers
FOUR – After four matches at home without winning (2D, 2L), AC Milan have won two of the last three games played at San Siro in Serie A (1L).
ONE – The Red and Blacks managed to have a clean sheet against Crotone after five back-to-back Serie A games in which they conceded at least one goal.
TWENTY-SIX – The number of attempts recorded by the Rossoneri. Only against Hellas Verona (31) they have done better in this Serie A season.
THIRTEEN – Leonardo Bonucci (first goal for AC Milan) has scored 13 of his 15 goals in Serie A in matches played at home.
Here are the words of Rino Gattuso at Premium Sport after the success against Crotone:
On the victory: "For 70 minutes we had a great game. After the canceled goal (by VAR) we dropped in form, but it is a deserved victory".
On added time (7′): "I got angry, but then Romeo explained to me the reasons and the referee was right. I apologized but I was tense in the final moments".
On Cutrone: "It's true that he makes the difference when he enters the field with the game in progress. Looks a bit like Massaro. We are creating a lot, but we only tickle our opponents. We have to continue like this, at this moment we are playing with 4-3-3, then we will see if we can play with two strikers later".
On Biglia: "Lucas must be stopped during training, he always trains to death. More he plays and more he improves. The game helps to find brilliance. I'm alternating him and Montolivo and for now things are going well ".
On the whistles for Kalinic: "I can not afford to judge. We need our fans, who have to support all the players. Kalinic took a blow on the ankle and did everything to recover".
Leonardo Bonucci was interviewed by Sky Sport at the end of AC Milan-Crotone.
On the goal and the performance: "For a while they were telling me that I had to score, I finally repaid the confidence with a good performance and a goal. What matters more is the team spirit, 2018 could not have starter better".
On the derby: "During the season there are certain decisive games, this desire to turn things around was already there even before. The derby helped us change, grow in confidence and self-esteem, you can see it when we risk in order to play our game. We possess all the elements to continue to grow".
On the fans: "I have always had the good fortune to look at the pitch, the applause from the fans is always a pleasure, we have to conquer this people, who believe in us and have shown it even in the worst moments."
On the farewell voices: "I have a contract with Milan until 2022, I do not see why I have to pay attention to chats and rumors".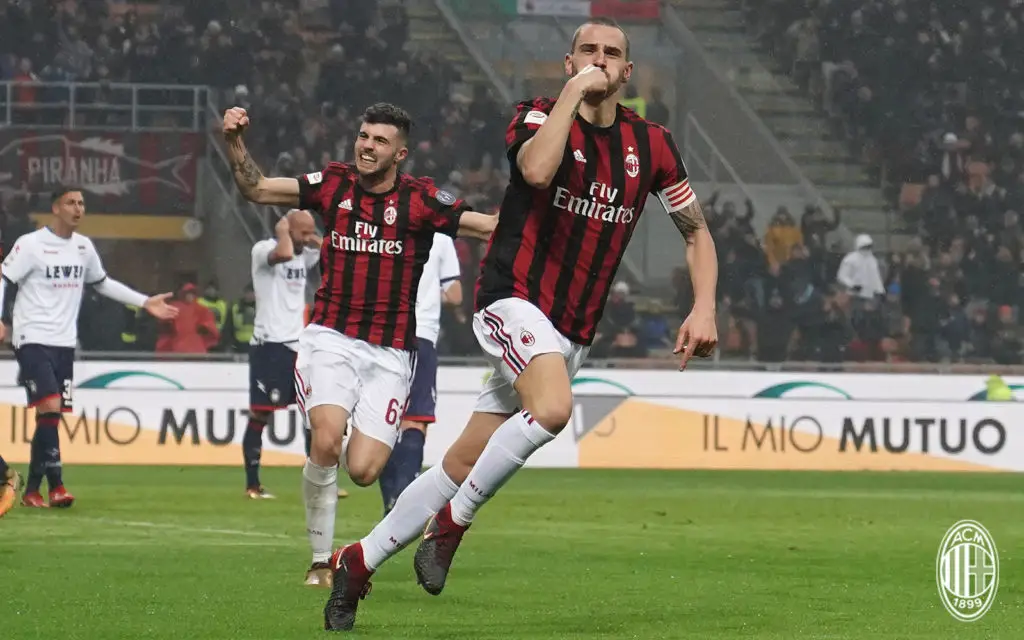 After plenty of goal opportunities, Captain Bonucci makes his count! It's 1-0 against Crotone