Andre Silva: "The reason why I don't play much"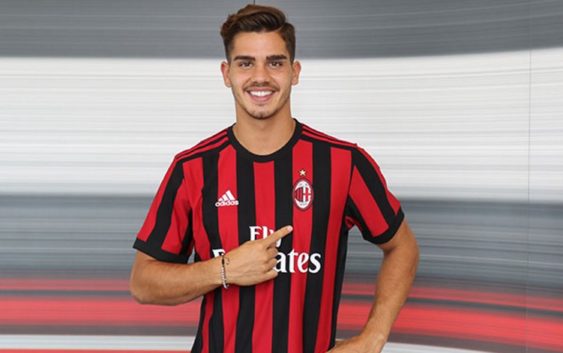 When a goalless draw seemed inevitable at Marassi, Andre Silva showed up to meet Suso's cross and give the Rossoneri a very valuable win with a great header in the last second of the game.
Andre Silva: The reason why I don't play much
The hero of the night at the Marassi, Andre Silva, spoke to the media after scoring the match-winner and his first goal in Serie A. This is what the Portuguese striker said to Milan TV:
"If I don't get to play much it's because I have to work harder. I had not scored in the competition yet. I am very happy, although Suso's cross wasn't so good (laughs). I would like to thank everyone, the staff and my teammates. Scoring means everything to me. We will give our all against Arsenal, we believe in ourselves".
Coach Rino Gattuso expressed his satisfaction after the away win at the Luigi Ferraris stadium.
The boss praised the physical condition of his team and said the Rossoneri can still have their say to qualify for the next round in Europa League: "I'm very pleased after tonight's match. It went very good. Genoa are a well-prepared side, we could have also lost this game. I liked the personality and the mentality of the team. We are in good physical condition and I like that. Some people said Thursdays' loss (against Arsenal) was due to our poor physical condition, but I knew it had nothing to do with that. For the return match, we have 30% chances of winning".
Andre Silva match-winner of Genoa-Milan 0-1 with his first goal in Serie A. 
The Portuguese was interviewed by Sky Sport too after the match "It's different to score in the last minute. I am happy and so is the whole team. Gattuso complimented me, I did a good job and he trusts in me. All coaches say so many things, I have to listen and work. I say thanks to the coach".
Andre Silva continued his analysis showing himself confident about the future "I had to score, I'm happy for the goal in this match. Arsenal? Let's go there with a big desire to win, then we'll see what happens. I hope to continue scoring many goals, I hope that more goals will come in Serie A after this. A striker must score, but the most important thing is to work. First I think of that and then to score".
Genoa 0-1 AC Milan, Goals & Highlights 
https://www.youtube.com/watch?v=X2q48kBg-Ys
Suso: Deserved victory. Andre Silva…

The Spaniard commented on the Rossoneri's success: "We kept trying until the last second to grab a win. We tried all the time, it is a well deserved result. We knew that Lazio had equalized and Sampdoria lost, it was a very important game today".
On Andre Silva: "An attacker lives for the goal, he is adapting to Serie A. The Italian football is a difficult and different football from that of his country. He needs some time. When the opportunity arrives like today, he has to do his best and today he scored a decisive goal, well done".
Suso and the Champions League goal: "Yes, we believe but we have to think match after match. We must try to win them all. Today we have won, but now we have to think about Arsenal".
Lucas Biglia too commented on the 0-1 win over Genoa speaking to Milan TV.
The Argentinean centre-mid had, too, positive words for his forward teammates: "It's very tough to play here, so many teams have lost on this pitch. We came here still a bit disappointed after last Thursday's defeat but we can still turn it around next week. We have to play as a team and continue to do it our way. We are not looking at the schedule, we focus on one match after the other and then we will see. I'm happy for André Silva because he works so hard in training. I hope Niko (Kalinic) too gets his reward soon".
GENOA (3-5-2): Perin; Biraschi, Spolli, Zukanovic; Rigoni Hiljemark, Laxalt, Lazovic, Bertolacci; Pandev, Galabinov.
MILAN (4-3-3): Donnarumma; Borini, Bonucci, Romagnoli, Rodriguez; Kessié, Biglia, Bonaventura; Suso, Kalinic, Calhanoglu.
---
---