Diogo Dalot Future Uncertain Beyond Current AC Milan Loan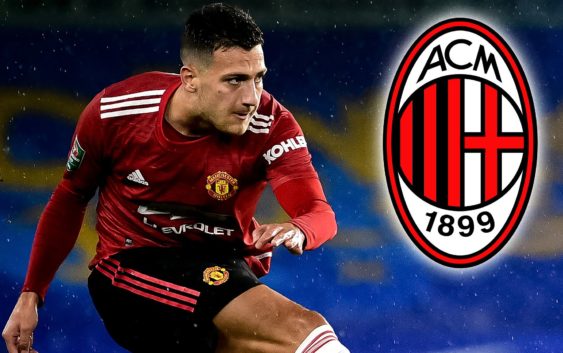 The long-term future of Diogo Dalot hangs in the balance. Currently on loan at AC Milan until the end of the 2020-21 campaign, the Serie A leaders are weighing up a permanent move. However, the price-tag set by Manchester United and interest from elsewhere could shape where the player ends up next season.
Dalot Surplus to Requirements at United
Should he return to Manchester United once the loan in Milan ends, the biggest problem for Dalot will inevitably be forcing his way back into the team. Aaron Wan-Bissaka has held a firm grip on the right-back position since joining the Red Devils, where the 23-year-old has become one of the most consistent players at the club. Timothy Fosu-Mensah has increasingly become his most regular backup option, in the plans of manager Ole Gunnar Solskjaer.
Although he can switch flanks to play as a left-back, Dalot would also struggle for opportunities on that side of the pitch. Luke Shaw has enjoyed a return to his best form this season, while Alex Telles has been equally impressive, following his arrival at Old Trafford from FC Porto. Considering that United also boasts a good selection of young full-back talents, this potentially leaves Dalot as the third or even fourth option in both full-back slots.
We're forced into our first change of the game, with Marcos Rojo on for the injured Dalot.#MUFC #NEWMUN pic.twitter.com/jZnlnvCcZN

— Manchester United (@ManUtd) October 6, 2019
When he initially arrived at Manchester United from FC Porto for £19 million in June 2018, Dalot was regarded as a player with huge potential. Despite a promising start while Jose Mourinho was manager, making 23 appearances in all competitions during the 2018-19 season, he was plagued by injuries and physical problems. As these issues persisted and with the arrival of Wan-Bissaka, last season Dalot made just 11 appearances.
Now Manchester United have plenty of stability and competition in the full-back positions and are considered to be genuine title challengers according to the latest Premier League betting odds. So it's looking unlikely they will have any space for Dalot upon his return, which has inevitably led to speculation there is no longer a future for him at Old Trafford.
Permanent Switch to Milan?
When AC Milan sealed their loan move for Dalot, despite spending the 2019-20 campaign with the Italian giants, no option to buy or obligatory transfer clauses were included in the deal. However, the idea of a permanent switch was never entirely ruled out of the equation, if the Portuguese U21 international became an important player at the club.
Over the course of the season, Dalot has arguably found the competition for games at AC Milan equally challenging. Davide Calabria is the first-choice right-back option, with the Italy international making 23 appearances in all competitions. Meanwhile, the left-back position belongs to Theo Hernandez, where the 23-year-old France international has 24 appearances. Subsequently, Dalot has found himself being utilized as a backup for both players.
Better than yesterday, worse than tomorrow 👊🏻

🎵 by Future 🔥 pic.twitter.com/QqwFJoW3Ap

— Diogo Dalot (@DalotDiogo) January 21, 2021
At the time of writing, Dalot has made 5 starts and 4 appearances from the bench in Serie A, along with 6 outings in the Europa League and 2 games in the Coppa Italia. His total number of minutes on the pitch have been fairly evenly distributed, between the left-back and right-back roles. While that speaks well of his positional flexibility, Dalot may have been hoping for more games at AC Milan.
Amidst reports that Manchester United would seek a fee of around €15 million, and speculation that Sevilla is said to be monitoring the situation, a permanent move by AC Milan for Dalot would be costly. Considering the relatively modest impact of the player during his loan period at the club, such an excessive spend might best be focused on strengthening other areas of the team.
---
READ MORE: AC Milan battling Man Utd for Gigio's heir