Gattuso, 2018 and Champions: AC Milan only behind Juventus and Napoli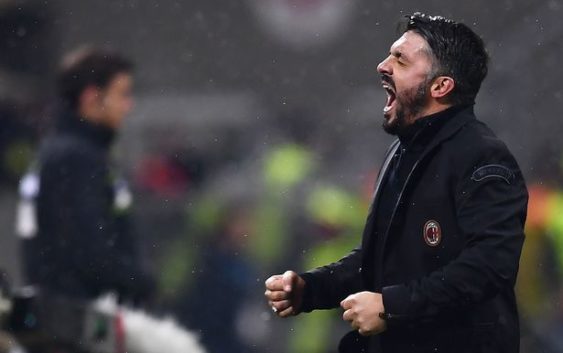 Despite the non-stop criticism of recent weeks, AC Milan is performing greatly under the management of Gennaro Gattuso and statistics back this claim.
After the three points against SPAL, Gennaro Gattuso will be able to enjoy a few days of sunny holidays in Dubai. In his suitcase, however, there will certainly be a PC, with which he will begin to study Sampdoria and Juventus. The upcoming opponents, respectively in Coppa Italia and the Italian Super Cup. Certainly, writes La Gazzetta dello Sport, Rino will not pass these last hours of 2018 looking back and retracing the year that goes away, and yet it would be worth it because his work in general was excellent.
The bad December is a stain but can not ruin a 2018 made of points, many, well 70. From January till today, the Devil is third in the standings behind the unreachable Juventus (101 points) and Napoli under the management of both Sarri and Ancelotti (87 points).
Behind these battleships is AC Milan, on a par with Inter and above Roma, Lazio, Atalanta and Fiorentina. It is the best performance of AC Milan of the last six years writes La Gazzeta. In other words, Gattuso has always kept the team in Champions League zone, a crucial target for next May.
Instead, looking only at the classification of 2018-19 the situation remains positive. There are six points more than a year ago. And it is curious to observe how the Devil is the only team, together with Juventus, to have such a high increase in ranking. 31 points in the first half of the season are the result of 8 victories, 7 draws and 4 losses, and tell of a team glued to Lazio and able to fight for a place in the top four. The permanence of Rino is also a fruit of this results.
---
---