Gazidis Congratulates Team, Fans for Exciting Season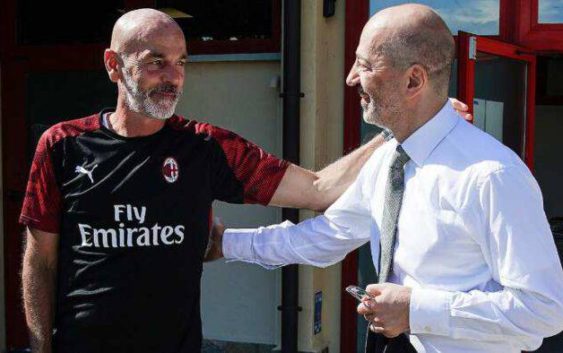 Fans of soccer betting online can already start to speculate on the results of the upcoming Champions League season as its lineup is starting to take shape. Especially the Milanesi have a lot to be excited about: both Inter and AC Milan have qualified for the next season of the Champions League.
AC Milan chairman Ivan Gazidis congratulated the team in a letter pointing out that, although this exciting season has come to an end, there's a new one coming – and the entire team, from the technical area to the players, must continue to work toward the common goal with renewed enthusiasm and energy.
Ivan Gazidis
Ivan Gazidis is a South African sports executive of Greek origin who was raised in the United Kingdom and made a name for himself in the United States. Born in Johannesburg, he moved to Manchester at an early age with his family, becoming an honorary Mancunian. A Manchester City supporter from an early age, he was himself a football player during his school years but, apparently, not dedicated enough to pursue a football career. Instead, he graduated from Oxford with a degree in law and moved across the pond to work for a law firm. While in the US, he joined the founding management team of Major League Soccer, becoming its deputy commissioner in 2001, while also helping promote the Mexican Football Federation and the CONCACAF Gold Cup. He returned to Europe with all this experience behind him to serve as the chief executive of Arsenal, where – among others – he was instrumental in the hiring of Unai Emery.
Gazidis left Arsenal in 2018 for AC Milan where he made some controversial decisions, including his veto on the signing of Zlatan Ibrahimovic and Cesc Fabregas.
"An exciting season"
Gazidis took the occasion to congratulate the team – and its fans – in a letter after AC Milan's qualification to the Champions League. Here is the translated text, obtained by MilanNews.it today:
"Dear Colleagues, after an exciting evening, for those who love the Rossoneri colors, with extraordinary happiness, we conclude an exciting season entering the Champions League, with all our Teams.
In a difficult historical moment for everyone in the world, including all Milanese and Milanisti, we are really proud to have reached all together this important goal for the Club.
We are still at the beginning of an ambitious path: to bring Milan back to where it deserves to be, at the top of world soccer, creating an innovative model, on and off the field, with a solid and sustainable future, through strong values in which to reflect.
But despite the difficulties due also to the effect of the Pandemic, our reality is more and more concrete. We are a Club that has aroused great emotions, that has demonstrated its value on the field, expressing a cutting-edge game identity, with a unique model on the field, with young talents and remarkable growth potential. We are a Club that is striving to achieve financial sustainability and that has confirmed itself as a brand recognized and admired internationally.
These are the foundations that we have built and that we will further strengthen, starting tomorrow, with renewed energy and ambition, together with the Technical Area, the entire management and the collaborators of the Club. We have taken the right path and we must continue our journey together, with the support of our wonderful fans and our prestigious partners.
I know that these are still difficult times and I want to thank all of you for what you do and show every day for the Club.
Let's continue like this: together, we are the strength of this Club, we are the spirit and the energy of Milan.
Forza Milan, always!"
---
READ MORE: AC Milan risk repeating Donnarumma mistake twice