Higuain reveals why he chose AC Milan over Chelsea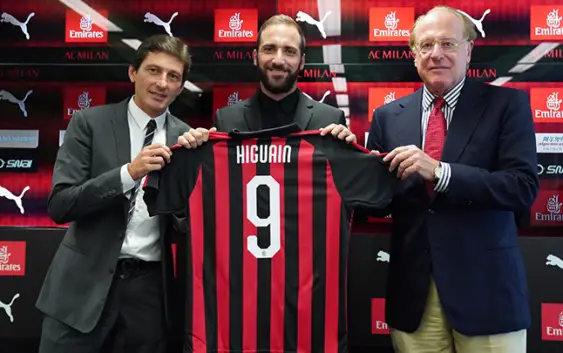 AC Milan presented their two new signing before the media today with Gonzalo Higuain also revealing why he chose the Rossoneri over Chelsea.
Excited, Gonzalo Higuain explained the reasons that led him to choose AC Milan: "I want to thank the club for the great effort it has made to bring me here – said El Pipita -, this project has motivated me a lot, at this point of my career it is a great challenge for me and I hope to repay all the trust that they have shown me. I arrive in a team with an immense history, when they told me to come here to bring back Milan where it deserves to be it was a source of pride for me. I hope to do great things here because Milan is a club that deserves to return to the top.
The Argentine hitman spoke about the relationship with coach Gwnnaro Gattuso and revealed an interesting background regarding the negotiation with Chelsea: "The conversation with Gattuso remains something between me and him – the 30 year old striker clarified – I'm not one of those who says in public what we discuss inside the locker room. What I can say is that our conversation has helped me to come here.
AC Milan makes me curious, there are players here that I like a lot and there's a big offensive department, made up of people with characteristics that I like. This too was an important factor for me. Cutrone? He's young and has a crazy desire to improve, there will be a good competition between us, plus they told me he's also a good guy. Who wins the Argentine derby with Icardi? The answer is obvious… At Chelsea the only one who wanted me there was Sarri, but at Milan everyone wanted me. The conviction that they showed here was fundamental for me".
---
---