Jorge Mendes proposes three players to AC Milan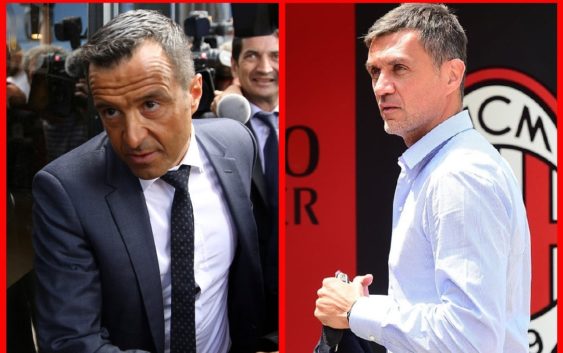 AC Milan will have a meeting with Jorge Mendes to discuss the future of Rafael Leao and three more players.
AC Milan will use this period of international break to work on the contract extension of Rafael Leao. At the same time, the Rossoneri managers continue to have an eye on the transfer market. For both motives, AC Milan will have an important meeting with powerful agent Jorge Mendes in the coming days.
Mendes is involved in the Leao case despite not officially being his agent. The Portuguese still maintains a close relationship with the Leao family and has a say on Rafa's future. AC Milan have made a contract proposal and are pushing for a positive answer. If that will not be the case, Milan will ask Mendes to find a new club for Rafael Leao and possibly bring an offer of 100 million in exchange.
Regarding potential signings, Jorge Mendes is reportedly offering three names to AC Milan. The first one is that of Marco Asensio. The 27-year-old Spanish winger will likely leave Real Madrid at the end of the season as a free agent. An excellent mercato opportunity for the Rossoneri but the player's wage demands are pretty high. At the moment it looks like Premier League is the most likely destination for Marco Asensio with English clubs having no problems in offering him a rich contract.
One of the most exciting youngsters on Jorge Mendes roster is Manuel Ugarte. The 21-year-old defensive midfielder has established himself as a key player for Sporting Lisbon since his arrival in 2021. Ugarte likes to get possession in the first phase of build-up. His ability to switch the ball and to play out of pressure has made him perfect for the deep-lying playmaker role. Manuel Ugarte has made 37 appearances with Sporting this season and has a market value of around €30 million.
The third player that Jorge Mendes is offering to AC Milan is Adama Traore. As already reported by acmilaninfo.com, Mendes tried to bring Traore to Mila even during the January transfer window. Just like Asensio, Adama Traore becomes a free agent this summer and will not be extending his contract with Wolverhampton. However, he is not a name that excites Maldini and Massara. 
---
READ MORE: AC Milan's worst signings EVER