The reason why VAR did not cancel Udinese's goal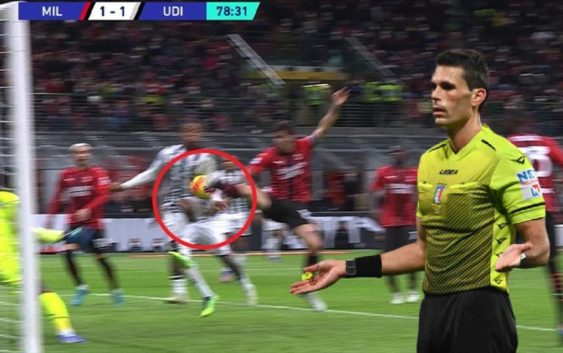 Referee Matteo Marchetti and VAR assistant Marco Guida failed to notice and cancel Udinese's goals scored by hand.
There is great anger and disappointment at AC Milan after Friday night's 1-1 draw against Udinese. First of all for the result, which prevents Stefano Pioli's team to widen the distance with Inter.
But the refereeing mistake that helped Udinese find the draw cannot be overshadowed. Udogie's goal was evidently scored with his hand, an arm deflection that finished in Mike Maignan's goal. The irregularity was not seen either by referee Matteo Marchetti or by the assistant guide in charge of VAR.
In the post-match interview it was Paolo Maldini who raised his voice with a certain firmness against the match refereeing, especially for the decision to send an almost rookie for Milan-Udinese: "Milan are in the lead of Serie A and cannot always have a rookie referee at San Siro. It is not easy to referee at San Siro. Unfortunately the referee made mistakes".
Maldini's statements have annoyed AIA (the Italian Referees Association) reports Corriere della Sera. AC Milan have paid for the inexperience of the referees sent to San Siro in recent times. As happened with Marco Serra, disastrous in the match lost against Spezia. But the referees designator Gianluca Rocchi will not change his mind, despite Maldini being quite pungent in his words on Friday night.
The AIA will not punish Marchetti or his colleague Guida who was in charge of the VAR. Marco Guida is the one guilty of failing to report Udogie's handball to the young referee. The decision not to punish Guida goes back to the interpretation of the key episode. There was no clarity of the touch from the video images analyzed by the VAR according to Corriere della Sera. Only one camera caught the clear handball of Udogie and VAR did not have the video.
Nevertheless, what happened after should have been quite indicative. Destiny Udogie scored his first career goal and it happened against a great clubs like AC Milan and at an historic stadium like San Siro. However, Udogie was not celebrating the goal. Instead the Italian full-back kept looking at the referee. A gesture that referee Matteo Marchetti failed to notice.
---
READ MORE: Maldini blasts midfielder: "He is not Rijkaard"