Milan 0-0 Genoa, player ratings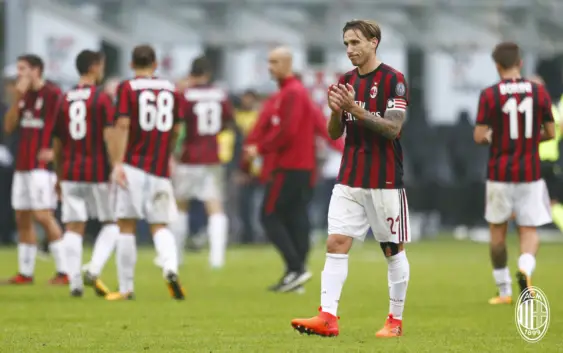 The situation for AC Milan continues to get worse. In a difficult moment, when the win was an obligation the rossoneri fail to find the back of the net.
Even after three defeats Milan fail to win. Despite playing more than an hour in 10 man, the rossoneri dominate the game but can't find the goal. Leo Bonucci's red card in the 25th minute weights a lot. Kalinic is too isolated up front while Suso and Bonaventura fail to ignite on the wings. Tremendous performance from Cristian Zapata in defense.
Donnarumma 6.5: Absolutely impeccable. Gigio saves a couple of good chances from the opponents keeping a clean sheet. Great performance from the young goalkeeper. 
Zapata 7: Plays instead of Musacchio and repays Montella with an excellent performance in defense. Great marking and careful interventions, especially against Lapadula in the second half.
Bonucci 4: What a disastrous start from the rossoneri captain. He has yet to show his best qualities at San Siro and even today fails to meet the expectations. Is punished with a red card after 25 minutes for a naive foul and abandons the team in difficult moment.
Rodriguez 6: Physically not at his best. Again deployed as a centre back offers a good defensive performance but fails to push forward, does not provide qualitative crosses and rarely serves Kalinic.
Borini 6,5: Perpetual on both sides, starts as right winger but ends the match as left back. Humble and one of the best on the filed but fails to create dangerous situations.
Biglia 6: Good at blocking the opponents but not so much at creating and giving speed and geometry to the team.
Kessié 6: Often makes mistakes even at simple controls in the middle of the field. Starts many counterattacks and could have found the goal if he would have been more accurate. However, the young midfielder is the only one to try a more complicated play than usual
Bonaventura 5,5: More contribution to the offensive maneuver was expected from him. Often loses the ball and fails to create anything significant.
Calhanoglu 5,5: He fails to impress in his natural position as attacking midfielder. After 25 minutes Bonucci's red card forces Montella to substitute him.
Suso 7-: His plays on the right wing are indispensable for the rossoneri. Every dangerous occasion comes from his feet. Pity he is not accurate and lucky in serving the better placed teammates. Also tries some shots from the distance, but he's not as accurate as in last week's derby.
Kalinic 5: Few occasions for him in the first half. Too isolated and rarely served from his teammates. Has a good opportunity to score in the second half with an assist from Suso but fails to control the ball. He is commited but today it was not enough.
---
---