Gattuso: "No mistakes allowed tomorrow"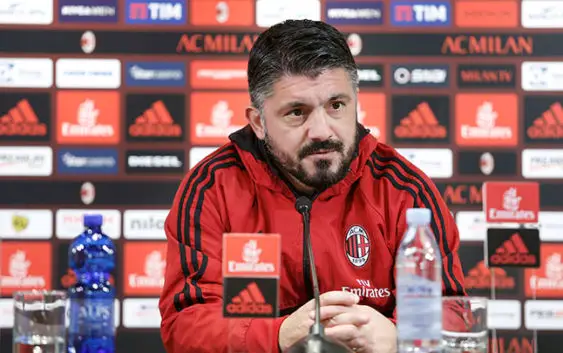 AC Milan are preparing to face another difficult game like the one with Sampdoria and coach Gennaro Gattuso emphasizes that no mistakes are allowed tomorrow.
There's Sampdoria on our path on Matchday 25 in Serie A and the Rossoneri want to end the week with another victory after the 4-0 at SPAL and the 3-0 against Ludogorets in Europa League. San Siro's game – kick-off on Sunday at 20.45 CET – is a tough one, against an opponent who are three points above us. And Rino Gattuso commented on the importance of this clash at the regular conference at Milanello on Saturday afternoon.
SAN SIRO AS A WEAPON TO BEAT SAMP
"What we need the most tomorrow is our fans. Then, of course, we have to engage them through desire, the performance and sense of belonging. It's never easy (for the opponents) to play at San Siro, doing it in front of 50,000 roaring fans like it happened against Lazio… It was like being back in the old days and AC Milan need this. I hope the fans will be passionate. We have to do well and I have to start the best possible XI and give enthusiasm to the people who fill San Siro.
A CRUCIAL MATCH
"We can't make any mistake as they (Samp) are three points above us. We have to prepare well for this game. They are well-equipped, well-coached and we need a great performance. I don't want to hear anything about being tired because there's a lot at stake. If we play too deep like we did in the first 20 minutes against Ludogrets we could be risking a lot.
STATS
"Samp concede a lot in the last 15 minutes of the game? When my staff hand over to me the stats of our opponents I pretend to give a look but then I am too superstitious [he laughs, ed.]. Unfortunately, we didn't have a lot of time to prepare well for this game. I am a bit worried because I know how well Samp play. We need to be really wary of our tactics, make no mistake or it's going to be a problem.
DEFENSIVE SOLIDITY
"Bonucci and Romagnoli? I want to talk about the four-line defence, not just about the two centre-backs. It's the whole line who is doing well. Ignazio (Abate), Calabria, Borini too when he played left back, Antonelli… They are all doing a good job. Leo (Bonucci) has to set an example for this team. A champion is not only the one who is good at playing football but one who always trains hard, who is always speaking talking to the rest team. This club has always had great champions and professionals. I am proud to coach Bonucci. We still have to raise the bar because nothing can be left to chance when you play football.
KESSIE'S ABSENCE
"The defensive midfielders and not only they must give 1 or 2% more tomorrow. We don't have other players with Franck's qualities and we knew it. We believe in the players we have in the squad. Montolivo or Locatelli in his place? Monto gives us experience and quality. Loca is fresher and finds more space and surely is younger than Riccardo.
THE MAN OF THE MOMENT, CUTRONE
"I think that Cutrone needs to grow and improve. He's 20 and still has to work hard and then rest. We mustn't load him with expectations and keep making comparisons with top players from the past and talk about the national team.
FUTURE
"Milan and Samp tomorrow is what is in my mind. I hope to stay here for as long as I can; this is my main priority. I am proud to be here and I have to thank Fassone and Mirabelli because they believed in me. AC Milan is my priority but I have to be the least of the problems for the club. 
THE NEXT STEP
"Our Next step? Continuity in results and performances. When we make the right movements and find the empty space we trouble our opponents and I don't like it when we lose the ball. We have to do well to find the men between the lines. We have to improve in this. We have to play it simple because if we try the complicated pass we lose the ball and leave to much space to our opponents
#WEAREATEAM
"Nobody must give up and everybody always need to show their desire. Look at Borni who came on with 15 minutes to go and scored or Rodriguez who came on and scored from the spot. Someone, of course, isn't happy but we always have to consider we are part of a squad of 25 players. Because when you get your chance you have to be ready. We have trained to play this much and mustn't be afraid of anything and take the pitch knowing we are a strong team.
SQUAD ROTATION
"It's not that I don't believe in the boys who are not playing, but those who are playing aren't showing any sign of fatigue and that's why I am not making any changes. As soon as I see someone who is tired or struggles to recover I'll make those changes.
ON THE REPORTED RECONCILIATION BETWEEN THE FANS AND GIGIO
"I have been waiting for this for some time. We all know how young Gigi (Donnarumma) is. He has a great sense of belonging and needs all the affection from the fans".
---
---