Vincenzo Montella wins Liedholm award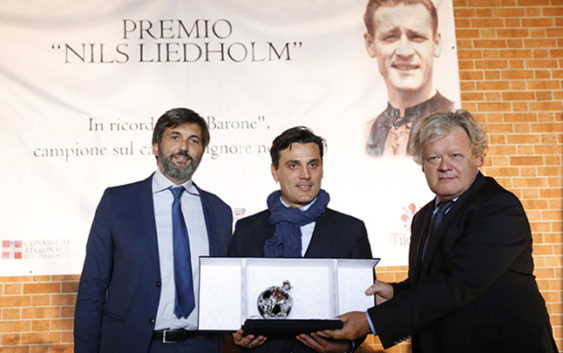 A.C. Milan's coach Vincenzo Montella wins the 7th edition of the event named after the Swedish great. An important honor for the rossoneri technician.
The Liedholm award on the hills of Monferrat. Now at its 7th edition, the event was an opportunity for members of the world of football to reunite reports the official site of AC Milan. The objective of Carlo Liedholm, son of the "Baron" Liddas, and of the jury of experts, is to honour with this award those men who embody the values of sport and loyalty, essential in sports, specifically in the world of football.
After the first edition that took place in 2011 with former rossonero coach Carlo Ancelotti winning the prize, this year's Liedholm award ceremony, won by Vincenzo Montella, current AC Milan coach, happened with exactly one month to go to the tenth anniversary of the passing of Nils Liedholm, who will be remembered on 5 November with a special ceremony.
"My father and Vincenzo Montella had a lot in common – says Carlo Liedholm. They met when Vincenzo was a young striker for the giallorossi and my father worked as a consultant at AS Roma, and I remember that dad really appreciated him". After Ancelotti and before Montella, also Vicente Del Bosque, Michel Platini, Paolo Maldini, Roberto Donadoni and Claudio Ranieri received the award. It was not only AC Milan, the two had in common, but also Roma and Fiorentina. Vincenzo Montella said he is "proud to receive an award named after such a great man who has set an example for all of us".
But who is the legendary Liedholm. "I came to Italy in 1949 to stay only two years and I ended up spending my whole life here". A story that was often told by Nils Liedholm, symbol of a football era admired throughout the world. But the career of the "Baron" was never smooth sailing. As a player, in Sweden, he had won everything, with his national team and Norrkoping, but in 1958, in Stockholm, he went on to lose the World Cup Final to Pelé's Brazil. As a coach, he was considered a master, but in the 1960's he was accused of being too much of a company man as he did not stand in the way of President Felice Riva's decision to sell Paolo Ciapina Ferrario.
The Baron, as he is affectionately known in Italy, was renowned for being part of the Swedish "Gre-No-Li" trio of strikers along with Gunnar Gren and Gunnar Nordahl at AC Milan. Liedholm was an intelligent offensive playmaker who was renowned for his excellent range of passing and precise crossing ability throughout his career, as well as his vision, tactical awareness, control, class, and his elegant style of play, he is regarded as one of Milan's and Sweden's greatest ever players,and considered one of the best players of the post-war era. As a coach, he was in charge of several teams in Italy, managing for nearly four decades, he is regarded as one of the most successful managers in Italian football history.