Napoli 3-2 AC Milan, player ratings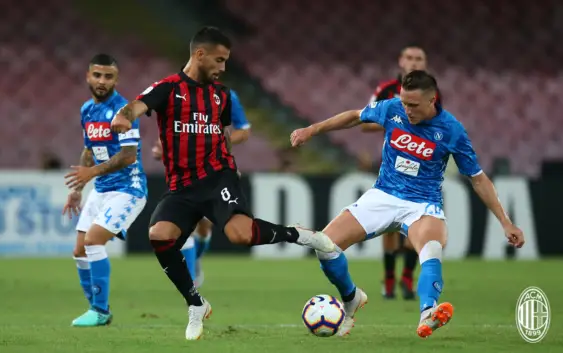 AC Milan lead for one hour at the San Paolo stadium only to see Napoli take away the three points with a spectacular comeback. A bitter start of the season for the Rossoneri.
G. Donnarumma 6: Careful in his positioning especially on air, there was nothing he could do in the first two goals of Zielinski. Mertens closes everything with the goal wide open. He avoids Napoli's fourth with a great save on Insigne.
Calabria 6: In the first half commits a couple of technical errors not normal for him. Scores the 2-0 goal coming from behind Suso.
Musacchio 6: Manages to completely block Milik and forms a good central duo with Alessio Romagnoli. Fails to close on Zielinski on the occasion of 1-2.
Romagnoli 6: Personality in the interventions and in guiding the defense. Holds up as long as he can but in the end Napoli are too much even for him.
Rodríguez 5: Napoli's Elseid Hysaj toys with him like he is some kind of youngster making his professional debut. The Swiss left back seems intentioned to replicate last season's performances, hopefully Laxalt's arrival will serve as extra motivation. Inexistent in attack.
Kessie 6: His main task tonight was to close the passage lines of the opponent players. But when Napoli raise their level there is nothing that Kessie can do.
Biglia 4.5: A total disaster. Loses many balls when the team is trying to come out in attack. Tries to redeem himself with the opening for Suso that leads to 2-0, but minutes later loses the ball that initiates the comeback of Napoli. Clearly not able to play for 90 minutes.
Bonaventura 6.5: Breaks the deadlock with a very beautiful goal and in the first half is AC Milan's most dangerous player on the pitch. No significant contribution in the second half.
Suso 6: Opens the game with the parable that Borini sets for Bonaventura. Then with much sacrifice throughout the game provides the assist for Calabria's goal. However the Spaniard must serve much more for Higuan in the next games.
Higuain 5.5: El Pipita is lost in the darkness of the infertility of AC Milan's offensive game. He is more dangerous when he starts to play more on his own but he is very limited up front, his teammates fail to back him.
Borini 5.5: Provides the assist for Bonaventura's opener but that's all he does for tonight. Makes many errors when he has the ball and fails to disturb Hysaj.
Gattuso 5.5: His team takes a 2-0 lead at the San Paolo with only two shots on goal and it was a treasure to be preserved. For 66 minutes his Milan holds well, even if the offensive production is not comparable to that of Napoli. After the 2-1 goal, however, the team deflates. There is still significant work to be done on this aspect.
---
---