New AC Milan Kit Pays Tribute to the City's Architecture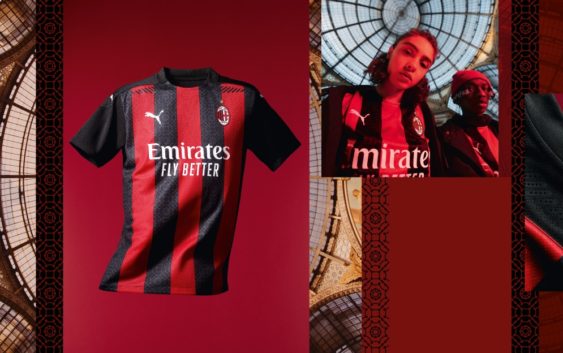 The city of Milan was founded more than 2,400 years ago. It was one of the first settlements in what today is known as Northern Italy. It has seen the ages go by, it has seen war, plague, glory, and pain. And it bears the mark of the ages in a gracious way, it is a beautiful and unique mix of ancient Roman ruins, Renaissance buildings, medieval fortresses, Gothic cathedrals, and everything from Art Deco to Neoclassical. This colorful and varied architecture is what AC Milan's 2020/21 kit pays tribute to.
The new jersey
AC Milan's new jersey was presented by Alessio Romagnoli, Hakan Calhanoglu, Theo Hernandez, and Zlatan Ibrahimovic in an official video published today on the Rossoneri website. The new kit is inspired by the Galleria Vittorio Emanuele II,  the oldest shopping mall in Italy, and one of the major landmarks in Milan. The building was designed in 1861 and built by architect Giuseppe Mengoni between 1865 and 1877. It was named in honor of the first king of the Kingdom of Italy.
"AC Milan is more than a football club, it represents the culture of the city", David Bremond, Head of Product Line Management Teamsport said. "We wanted to create a jersey that respects the traditions of the club and speaks to the fans inside and outside of Italy. We have incorporated the iconic architecture of Milan into this jersey, to truly represent not only the city but the culture that influences it."
"The AC Milan jersey is symbolic, representing the pride and belonging of millions of fans around the world", Casper Stylsvig, Chief Revenue Officer of AC Milan added. "The new design pays homage to tradition, culture, and iconic architecture which is synonymous with our beautiful city of Milan. AC Milan is built on innovation, community, integrity, and inclusiveness and PUMA has effectively captured these core values within this elegant new design."
The new jersey will become available through Puma.com today and will be presented to the fans on August 2nd, in AC Milan's match against Cagliari, the final home game of the Serie A season.
A history of great kits
This news jersey design is the latest in a series of Milan kits that stood out from the crowd. Over the years, the team switched providers several times, working with brands like Kappa, Lotto, and Adidas, among others. The latter is responsible for one of the team's most popular jerseys, one that collectors are hunting like a jackpot at a mobile casino Canada. A fierce red and black with black sleeves, a subtle and classy gold stripe along the edges, and an elegant and timeless collar that saw Milan beat Liverpool and win Champions League in the 2006/2007 season.
---
READ MORE: AC Milan's worst signings ever