Pioli's emotional speech to the team after Samp-Milan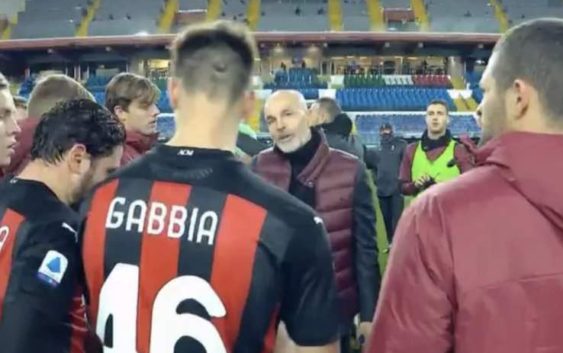 CorSera reveals what coach Pioli said at the end of Sampdoria-Milan to his players in the middle of the pitch. An emotional speech from the Rossoneri coach.
AC Milan grabbed a deserved but painful victory against Sampdoria. Albin Ekdal's goal with ten minutes left had reopened the match after the Rossoneri had closed it with Castillejo.
Even coach Stefano Pioli admitted after the match that he had thought the game was over after Castillejo's goal but Ekdal again gave the coach a final thrill. Thankfully, the Rossoneri won and are currently leading Serie A with 26 points after 10 rounds.
At the end of the match, Milan players gathered in the middle of the pitch. An unusual thing that caught everyone's attention. All in circle with Pioli himself in the center, who looked his boys in the eye, one by one, and then made a speech. Corriere della Sera has revealed the content of his emotional statements.
"We are a great group, it is our real strength, this is what allows us to be stronger than difficulties, absences, everything. We can go far, guys, you just have to want it".
AC Milan must keep their feet firmly planted on the ground, but dreaming big is legitimate. In addition to the technical and tactical aspects, the real strength of this team is precisely the unity, the positive spirit and the hunger for victory. And in fact, despite the rest day granted by Pioli, yesterday almost everyone was at Milanello to train. This Milan squad, albeit young, is acquiring a winning mentality, thanks to Ibrahimovic and a great coach.
---
READ MORE: Conte tried all summer to sign AC Milan star