Press conference, Gattuso: "We must believe in Champions"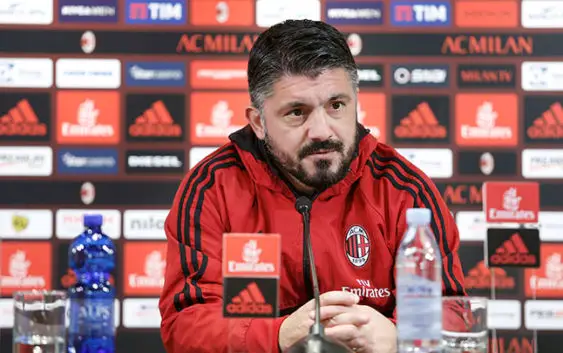 In the eve of the match 
against Crotone at San Siro t
he boss wants no distractions for this tough match that must be won at any cost.
The first press conference of the new year took place at Milanello training centre where Rino Gattuso faced the media on the eve of the San Siro game against Crotone (kick-off at 3 pm CET). A match which is "not to to be underestimated" and that the Rossoneri need to play "at a very high tempo" to take home three very important points. Here are the main quotes from the gaffer's conference:
ON CROTONE 
"No match is easy in Serie A. We have to prepare for it very well as we did in these past few days. It's a tough match, we must focus on the three points which are essential for us. Crotone played very well in the first half against both Lazio and Napoli, we have to respect our opponents and play at a very high tempo to win the game.
ON WALTER ZENGA
"He is a great man, never banal, he's an idol having been one of the greatest goalkeepers in the world. We have lots in common having worked abroad, but I like him a lot.
ON THE TEAM'S SITUATION
"We need to win a few more matches. I want my boys to focus on the fact that despite not playing brilliantly we are more solid and we suffer less our opponents. We are not in the best position in the league but we are in the Coppa Italia semi-finals and in the Round of 32 of the Europea League. Until mathematically impossible we need to fight for a Champions League spot. I want to see us in a different position in the table over the next games.
ON THE TRANSFER MARKET WINDOW
"The transfer market window can't be a distraction, no player came to me to tell me he wants to leave. We don't need to sign anyone because we have really good players and I want to work with these boys. A gift would be not to lose any players for injuries. A replacement for Kessie? Montolivo could play in his role, same goes for Locatelli, although they are different players from Franck.
ON THE STARTING XI
"Hakan Calhanoglu as a starter? Might be, he played well in the derby and against Fiorentina. At this time it's tough to decide a starting XI as all the players are on the up and training hard.
ON THE FORWARDS
"(Nikola) Kalinic worked also on the days he could stay home, he's really motivated. As for Patrick (Cutrone), we all know his desire and André Silva is young and is having a difficult period, of course, we expect more but he hasn't had many chances to show his value. Kalinic played really well in the derby, he was unlucky against Atalanta. I am really happy with my strikers
ON THE DEFENCE
"When you concede it's not only the centrebacks to blame if you look at the goal conceded in Florence it's true that Leo (Bonucci) loses his man but Calabria is late in closing down the player who actually made the cross. It's the defence as a whole that has to improve".
ON THE TEAM'S CONDITION 
"Physically and mentally the two days off were for the boys to charge their batteries after Florence where the team was really fatigued.
ON THE CHRISTMAS PERIOD GAMES
"I think that playing over Christmas was a success, stadiums were full, televisions were happy, it was really nice to see families at the matches. In England, it's tougher as they play every two days. As a coach it's really hard to prepare four games in the space of ten days, it's less stressful in Italy.
40th BIRTHDAY COMING UP 
"I don't know how I will spend my 40th birthday. I hope my wife will buy me a cake and give me a bottle of champagne or red wine. I have really lots of memories of my career. I never used to celebrate a lot after a win, I would mourn the defeats. It was really tough to get over [the defeat in] Istanbul, as it was against Boca. It's the losses that I always remember, you needed people who could help you get back on your feet and here at AC Milan there were many. A victory as an early birthday present instead of my wife's cake? Where do I need to sign?!".
---
---