Rafael Leao: Will He Stay Or Will He Go?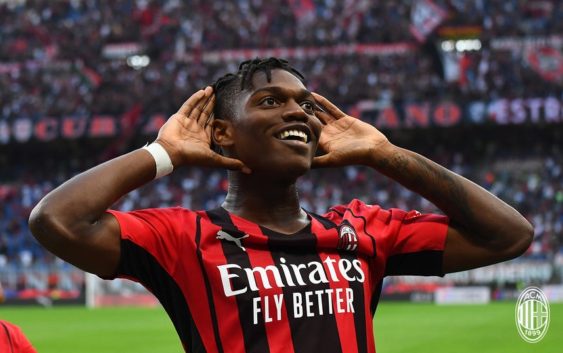 Rafael Leao has been one of the hottest players in Serie A this season and is on course to lead AC Milan to their first Scudetto in over a decade. With another goal against Atalanta, is fair to say that he might be a contender for the team's player of the season.
Despite that, there is a thought process that suggests his exploits in Italy might see him taken away from the red and black. Here we look at all things Rafael Leao; is he destined to leave Milan?
How has Leao performed this season?
Although we're about to dive into how Leao has performed this season, it could easily be looked at as 'why are big teams interested in signing him?'. The answer to that is pretty clear. From a high-level statistical standpoint, Leao has bagged 11 goals and provided seven assists giving him a goal contribution every 141 minutes.  Not only does that give him a pretty remarkable ratio but it also means he leads the Rossoneri in both goals and assists.
It hasn't all been about the goals though. Leao's all-round displays have been hugely impressive with his desire to drive forwards and unlock defenses particularly key. He's not afraid to put a shift in either and is capable on the deck and in the air; his deeper stats back all of this up. When compared to others in his position across Europe's top five leagues, he measures up extremely well.
His progressive carries of 8.6 per game put him amongst the top 10% whilst his completed dribbles, total touches and shots all come out around that marker too. In the air, he wins 1.3 headers per game putting him in the 85th percentile for comparable players. Where his numbers don't look so impressive are in the defensive area.
He isn't a player that hassles opposition to win the ball back; his pressures, tackles, interceptions, and blocks see him rank in the bottom third against his peers. That said, a lot of that is down to the team's style of play. Leao covers 8.3km per 90; that puts him fifth amongst all AC Milan players who have played over 2000 minutes.
Where next for Leao?
 After having a standout season, comparing favorably against fellow big five players, and being just 22-years-old it is probably only natural that transfer rumors have begun to swirl in the recent weeks and months.
After all, it's becoming commonplace that Serie A's hottest prospects end up leaving Italy with the wider perception that it's no longer on par with the likes of Spain and England in terms of quality and competition; the performances in European competition are perhaps a nod to that.
Moving to one of those leagues would also put him in a higher spotlight to have a starting role in Portugal's national team. He is, nonetheless, likely to be part of the World Cup team that will face Uruguay, Ghana, and South Korea in Qatar. You can check how are the odds for Portugal in the future World Cup here: https://www.bovada.lv/sports/soccer/fifa-world-cup-qatar-2022
Liverpool
We've spoken about the lack of Italian sides making the latter stages of Europe's premier competitions; Liverpool doesn't have that problem with the Reds in the Champions League final this season. It is understood that Jurgen Klopp is keen on adding Leao to his offensive options. That might sound a tad bonkers when you consider he already has Mo Salah, Sadio Mane, Bobby Firmino, Luis Diaz and Diego Jota at his disposal, however, the link could well have legs.
Salah and Mane have both been cited as having contractual 'wobbles' throughout the season and have just 12 months to run on their deals, Firmino isn't the same player he was a few years ago and, on top of that, Divock Origi – the go to back up man – is on his way out; ironically, he's being heavily linked with Milan.
Man City
England's other top team, Man City, have also been linked with a move for Leao. At this moment in time, that feels a tad unlikely given they have just announced the signing of Erling Haaland for big money with the likes of Jack Grealish seemingly still to have fulfilled their potential with the club. Julian Alvarez will also arrive at the Etihad this summer from River Plate to add further competition in the final third.
The only way a City move would make sense at this point would be if they have a few exits. Raheem Sterling and Bernardo Silva are seemingly the only players that could be heading for the exit door any time soon and, even then, there are question marks over whether or not Leao would actually suit City's system.
Barcelona
You won't find anyone that believes Barcelona don't need strengthening this summer and Leao is one of a host of players to have been linked with a move to the Catalan giants. From a player profile point of view, Leao's skillset would suit Xavi's side and he'd definitely add something to the squad immediately.
That said, Barca have a lot of young talents coming through their ranks already and getting experience through the door might be more of a priority – and it would suit their budget requirements more as well. On top of that, you might question whether Leao himself sees Barcelona as the club they once were; it feels like they are some way off challenging at the very top.
A message of hope for Milan fans
Last but not least, does Leao stay put at Milan? With so much time ahead of him in his career, Leao could well look at Milan and think his best option is to stay put. He is worshipped by their fan base and, barring a collapse, is about to clinch the league title.
Talk of a potential takeover could see Milan dominate Italy for the foreseeable future and, it's feasible that Leao could be the man that leads them back to their former glory. That is surely bound to appeal.