Rangnick Out: The future of Maldini and Ibrahimovic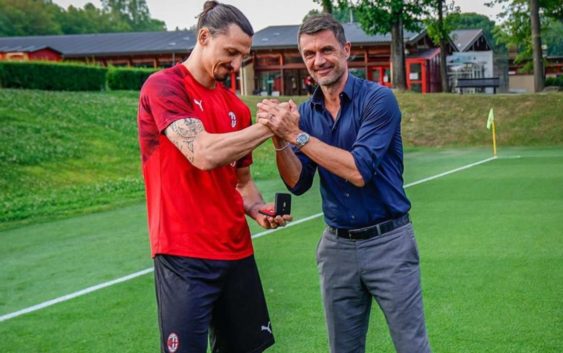 The not arrival of Ralf Rangnick at AC Milan will have an impact on the future of Paolo Maldini, Massara and Ibrahimovic.
AC Milan continues to win, beating Sassuolo and flying towards Europa League qualification but the headline of all newspapers was not the victory but the contract extension of Stefano Pioli.
The Rossoneri have decided to reward the coach's excellent work and to continue ahead with him. The former Fiorentina coach has signed an agreement that binds him to the Diavolo until 30 June 2022. At the same time, Ralf Rangnick parts way with the Rossoneri.
The agreement with the German coach was closed only the official announcement was missing but in the last few days the turning point, with AC Milan that has decided to change the cards on the table reportedly offering Rangnick only the role of sporting director. Coexistence with Pioli was impossible and the refusal of the Red Bull mastermind was expected.
Without Ralf Rangnick, Milan's future is destined to change completely. More precisely, it is destined to remain as it has been in recent months. Paolo Maldini, who unlike Zvonimir Boban, has endured, will be confirmed in his role as does Frederic Massara.
The two, together with the Croatian (it should not be forgotten), worked well, with purchases that helped AC Milan grow. Theo Hernandez and Bennacer are just two examples of their good judgement on the transfer market.
Not to be forgotten their support for Stefano Pioli, their help in making him feel part of a project, which ultimately paid off. The newspapers today agree that without Rangnick for Maldini and Massara the adventure with the Rossoneri will continue ahead.
They will be in charge of the transfer market next season and consequently they will be the ones to deal with the future of Zlatan Ibrahimovic. Now the Swedish striker, without Rangnick, certainly has a better chance of continuing to wear the AC Milan jersey. Everyone wants him to stay, his teammates, the coach and the fans. His impact at AC Milan is crucial and obvious.
Nevertheless, it's Gazidis who has the final say. A call from Ivan Gazidis has yet to come but the twists and turns on the bench could make Zlatan Ibrahimovic's future take a different path. We have to wait and see but still the most likely option is that Zlatan leaves at the end of the season.
---
READ MORE: Fiorentina block AC Milan from signing of Rebic