Report: AC Milan and Juventus agree Bonucci-Caldara-Higuain mega deal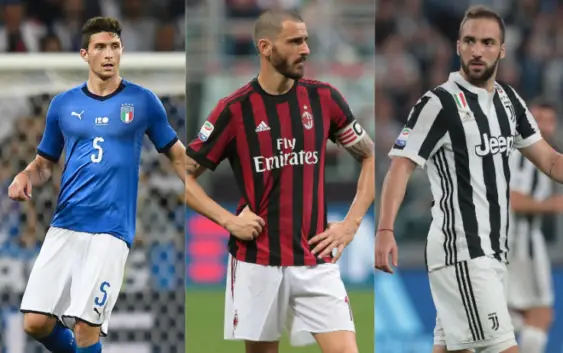 It seemed unimaginable just a few days ago but now AC Milan and Juventus are about to close one of the most sensational deals in modern football.
From the signing of the century (Cristiano Ronaldo to Juventus) to the most sensational swap of summer 2018. AC Milan has now set its sights on Mattia Caldara, one of the best prospects of Italian football. Juve, however, would gladly take back Leonardo Bonucci, determined to leave San Siro after just one season. According to La Gazzetta dello Sport today, all the parties are set to come out victorious from this deal, Gonzalo Higuain included.
Juve, as explained, are ready to welcome back Bonucci, but must first make room for him. The Bianconeri would be willing to deprive themselves of Caldara, but would like that Milan also sign Higuain, who has become redundant after the arrival of CR7. It seems that the parties have found a solution for the El Pipita. Loan for one year (cost 20 million) with the right to buy at the end of the season for 35 million euros.
The deal – highlights the La Gazzetta – is practically completed. Higuain has a lot of admirers at San Siro, and not just Leonardo, but his price (about 60 million) is very high. The parties will close everything soon if Juventus accept that the payment be divided into two installments. Regarding the two defenders, their ratings are more or less similar: Caldara is valued just over 30 million while Bonucci shy of 35.
In short, the pieces of the puzzle seem to fit (almost) to perfection. The parties worked all day yesterday, but there is a third pretender who could blow it all up at the last moment: Chelsea. Today, Juventus sporting director, Fabio Paratici, will meet in Nice the management of the Blues to hear their offer for Caldara. Juve could also say yes to the London side but, always according to La Gazzetta, in case the operation with Milan were to fail. The Rossoneri in that scenario would give up on the former Atalanta but the same should do Juventus with Bonucci.
---
---