AC Milan make offer to De Rossi and why this is a GREAT idea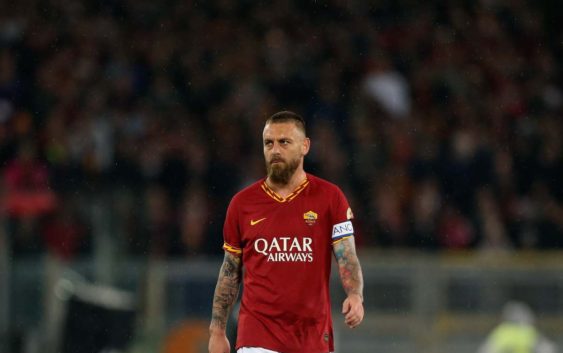 AC Milan are negotiating the signing of Roma captain

Daniele De Rossi. The Italian legend could join the Rossoneri on a free transfer.
MILAN TRANSFER NEWS – Daniele De Rossi is more than a simple idea for AC Milan. The Rossoneri are concretely evaluating the possibility of bringing him at San Siro for next season. Also in this case, the presence of Marco Giampaolo on the bench could be a crucial factor in De Rossi's final decision.
Transfer market expert, Alfredo Pedulla, revealed the latest on the future of Daniele De Rossi: "AC Milan tried to convince De Rossi 5 days ago and will try again shortly. He has a great relationship with Giampaolo who said: 'I am proud that Daniele intends to join my staff'. Meanwhile, De Rossi wants to play at least one more year. He also has an offer by Fiorentina while Sampdoria is more behind".
Many players have been linked to AC Milan recently but the name of De Rossi has a different charm. And the chances that we could see the 35-year-old with the Red and Black jersey are quite high.
The Roma legend wants to stay and end his career in Italy. But do AC Milan really need a 35-year-old player? Well, absolutely yes if that player is named Daniele De Rossi. The Italian could be a reference point for the young Milan squad with his charisma and class. He won't be a regular starter and won't pretend the same wage he earned at Roma. Plus a player of his stature can cover many roles on the pitch (defensive midfielder, central midfielder, centre back), 
In the past, older players have served as role models for the younger generation. Just think of Rui Costa and Kaka. But someone like Daniele won't help just the young players but also the coach. Giampaolo, who is in his first experience at a top club, and also Maldini and Boban, could use a figure like De Rossi for an advice, for an opinion or an exchange of ideas. An experienced and world-class player for a young Milan squad.
---
Read here Why AC Milan RIGHTLY did not sign Stefano Sensi
---
Read here AC Milan make official offer for Dani Ceballos