AC Milan vs Atalanta, 9 things to know about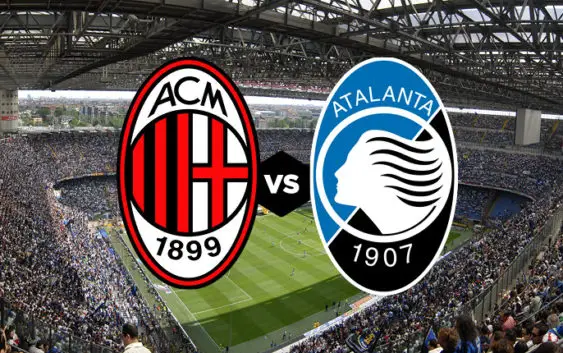 9 Things to know about AC Milan vs Atalanta
Last season AC Milan took home two draws against Atalanta and this year the first round will be Saturday evening at San Siro. Three precious points that the Rossoneri have to take home to climb back up in the league. As we wait for kick-off, let's take a look at these 9 stats and curiosities on the match:
1- The Rossoneri are ahead in the 56 matches played at San Siro against Atalanta in Serie A with 28 wins and 9 defeats (19 draws).
2- AC Milan have yet conceded a goal in the first 15 minutes of the game, this season so far.
3- Giacomo Bonaventura played 99 games with Atalanta in Serie A, scoring 14 goals before moving to AC Milan. Jack has scored twice against his former club (in the 3-1 win in Bergamo in May 2015)
4- Jack has had a hand in all four goals scored by the Rossoneri since Gattuso's arrival: three goals and an assist.
5- Franck Kessié, who played for Atalanta in the 2016/17 Serie A, had scored six goals after the first half of the season; in this campaign, he has found the back of the net twice, scoring his last goal in September.
6- Riccardo Montolivo grew up in Atalanta's Academy: with the Bergamo side, he made his first 32 appearances in Serie A, in the 2004/05 season, scoring three goals.
7- Gabriel Paletta and Andrea Conti too are ex-Atalanta players: the first one recorded 24 appearances in the 2015/16 season, on loan from AC Milan; the latter played 47 games and scored 10 goals in Serie A in the past two seasons with the Nerazzurri, before wearing the Red and Black.
8- On the other side, Bryan Cristante grew up in AC Milan's Youth Sector and has also made his first three Serie A appearances in the Red and Black in the 2013/14 season.
9- Andrea Petagna is another former Rossonero having played three matches with AC Milan. He as well grew up in the Red and Blacks' Academy.
From Bonaventura to Petagna: all the ex of this challenge
It will be a game a bit special, given the presence of several ex on the field. Surely part of AC Milan's formation tomorrow there will be Riccardo Montolivo, Franck Kessie and Giacomo Bonaventura. Only bench for Gabriel Paletta, who wore the Nerazzurri shirt in the 2015/2016 season when he went to Bergamo on loan. Manuel Locatelli also has a past at Atalanta, playing till 2010 before becoming part of the Rossoneri's youth sector. While Andrea Conti will be in the stadium only as a fan, he arrived in the summer and is currently out due to injury. He will return in February.
While for Atalanta, two former Milan players are sure to start tomorrow. They are Bryan Cristante and Andrea Petagna. The first is an authentic revelation of the Nerazzurri this season with 8 goals scored so far between Serie A and Europa League. Petagna has scored 4 goals this year and dreams of a goal at San Siro. Another former rossonero will sit on the bench instead. He is youngster Luca Vido, arrived in Bergamo last summer and so far has put together only 4 appearances (70 minutes in total).
Gazzetta: Jack and Kessie, back to the future. Against Atalanta to shine again
Going back to move forward, a classic. This is exactly the case of Giacomo Bonaventura and Franck Kessie. Two randomly chosen protagonists? Not at all. Two key men of Gattuso's Milan, summoned on Saturday to duel with recently known faces. With an important past at Atalanta, now Giacomo and Franck will be called to a great test against their former team that helped them launch their careers in Italy at the highest level. Back to the future therefore, but to take control of the Rossoneri once and for all.
Gennaro Gattuso had defined Franck Kessie as the Milan player who most reminds him of himself. furthermore, he also added that the Ivorian midfielder is stronger than him. He is more explosive and scores more. Jack on the other side seems like a reborn player after the coach change. While he managed to score only one goal this season with Montella (vs Rijeka), he has scored 3 goals and one assist with Gattuso on the bench. Both are expected to start from the first minute against Atalanta and help AC Milan get a much needed positive results.
CorSport: Gattuso trying new attacking trio
Coach Rino Gattuo is already reflecting on the possible lineup for the upcoming match against Atalanta. The team is in training retreat, trying to work hard but also to compact the group in a complicated moment. Il Corriere dello Sport writes that Gattuso tried yesterday the attacking trio composed by Patrick Cutrone, Andre Silva and Hakan Calhanoglu. We will have to see if this three players will be deployed with the usual 4-3-3 formation or if there will be surprises, perhaps with the Turkish midfielder behind the two strikers. An alternative that pleases Silvio Berlusconi, who yesterday advised Gattuso precisely to use the 4-3-1-2.
Gennaro Gattuso enchanted by Hakan Calhanoglu
Hakan Calhanoglu was, after Bonucci, the most acclaimed summer purchase of Milan by Rossoneri fans, but unfortunately so far the former Bayer Leverkusen has failed to live up to expectations. After missing the last games due to a physical problem in the calf, the Turkish midfielder is now feeling well, he returned regularly to training and Rino Gattuso is thinking of trusting him a first minute start on Saturday against Atalanta.
La Gazzetta dello Sport reports today that in the last few days the Rossoneri coach has complimented a lot the 23 year old: "Calhanoglu has an impressive way of kicking the ball, and believe me I know this things. He has incredible ballistics". His right foot is certainly one of his strengths and who knows perhaps he can finally used it already on Saturday against Atalanta, when Hakan has a good chance to play given the absence of Suso.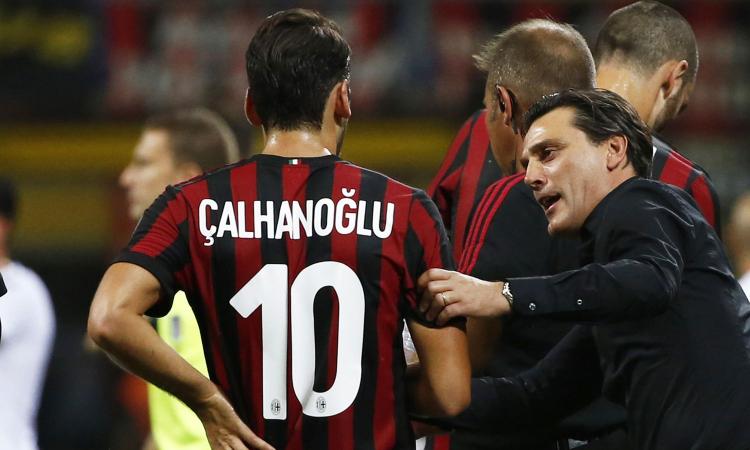 3 Solutions to replace Suso
As if the 3-0 defeat against Hellas Verona was not enough, AC Milan will have to deal without Suso and Alessio Romagnoli for next match with Atalanta. Even though they both disappointed at Bentegodi, it will not be easy for Gennaro Gattuso to replace two stable starters in recent weeks especially against a direct opponent like Atalanta.
While in defense the natural replacement for Romagnoli is Musacchio with Zapata also a candidate, in attack the situation is a bit more complicated. The only sure thing is that Patrick Cutrone will start from the first minute, he may be supported by Fabio Borini and Hakan Calhanoglu on the sides. Gattuso has confirmed that the Turkish midfielder can play as offensive winger leaving Bonaventura in midfield.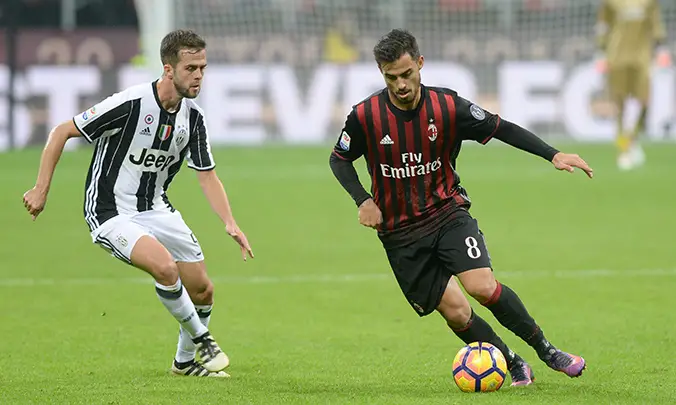 The two other options foresee Patrick Cutrone in partnership with Andre Silva and either with Borini on the wings or Jack Bonaventura instead up front and Fabio Borini in midfield.
OPTION 1 – AC Milan (4-3-3): Donnarumma; Calabria, Bonucci, Musacchio (Zapata), Rodriguez; Kessié, Montolivo (Biglia), Bonaventura; Borini, Cutrone, Calhanoglu.
OPTION 2 – AC Milan (4-3-3): Donnarumma; Calabria, Bonucci, Musacchio (Zapata), Rodriguez; Kessié, Montolivo (Biglia), Bonaventura; Borini, Silva, Cutrone.
OPTION 3 – AC Milan (4-4-2): Donnarumma; Calabria, Bonucci, Musacchio (Zapata), Rodriguez; Borini, Kessié, Montolivo (Biglia), Bonaventura; Silva, Cutrone.
---
---