Ante Rebic's market value doubles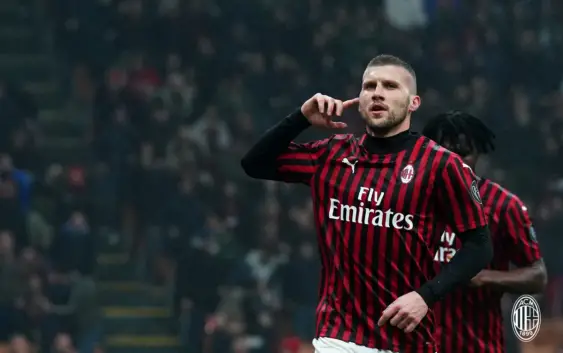 The market value of Ante Rebic has risen after some great performances recently but AC Milan don't have an option to sign the Croatian on a permanent transfer.
It took some time, half a year to be honest, but we're finally seeing the true Ante Rebic on the pitch. The 26-year-old Croatian winger has cemented his status as a regular starter in 2020 and has become lethal in front of the goal. However, AC Milan are enhancing a player who is not really theirs and on whom they have no purchase option.
Singing Ante Rebic on a permanent deal will not be easy. According to La Gazzetta dello Sport, Rebic was rated at €25 million when he joined AC Milan but now his market value has risen to 40 million after some excellent performances recently. The good news is that there is no particular hurry given the 2021 deadline. Even though currently the Rossoneri have no particular urgency, Zvonimir Boban is already working to inserting a buy option in favor of Milan reports Corriere della Sera.

Bruno Hubner, sporting director of Eintracht Frankfurt expressed himself on the matter: "The exchange with Andre Silva took place in the last minutes of the summer transfer window and we were unable to agree on figures. Both deals were handled quickly. Linked transfers? At the beginning, yes, but they can always be untied".
The Rossoneri's goal, in fact, is to secure a deal for Rebic but without affecting Andre Silva's path and his future in Germany. Author of 50% of AC Milan's goals in this new year with 5 goals in 5 games, the 26-year-old left winger has completely transformed since Ibrahimovic's arrival. For the upcoming match he will travel to Firenze to face his old club Fiorentina where he played for two years making only 8 league appearances.
Now Rebic has matured and found continuity. "I never wondered if it was more difficult to play in the Bundesliga or in Serie A. I simply needed some opportunities, usually I take advantage of the opportunities. I have had the opportunity to play continuously and the results are coming. I am happy to be able to help the team as I always have, in my own way", said the Croatian in a recent interview.
---
READ MORE: Mendes offers star striker to AC Milan