Belgian legend criticizes De Ketelaere stance over desired Milan move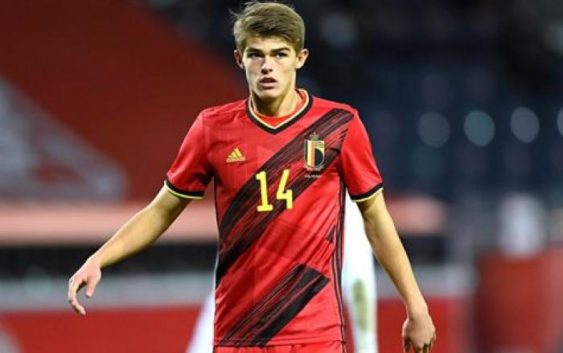 Having turned into something of a summer transfer saga for the Italian champions, AC Milan has apparently made an improved final offer for Belgian wonderkid Charles De Ketelaere, hopeful they can get a deal over the finishing line. However, his club has also received an offer matching their valuations from Leeds United.
While moving to the Premier League in England might be considered an attractive proposition, 21-year-old De Ketelaere has openly acknowledged his preference is to join AC Milan, keen to play for such a massive club who will be competing in the UEFA Champions League this season. Nevertheless, former Belgian international Marc Degryse believes the talented young midfielder has created a difficult situation for himself, fixated by a potential move to Italy.
Rather than jump at the opportunity presented by Leeds United, who are apparently willing to meet the asking price set by Club Brugge of around €40 million, De Ketelaere wants to wait on the Belgian outfit accepting a lower offer from AC Milan. Following the rejection of previous bids, the definitive offer is reportedly worth €33 million according to TeamTalk, plus a percentage of any future sale based upon estimates via RTL Sport.
🚨 Former Belgium forward Marc Degryse: "De Ketelaere has put himself into a difficult situation due to his inexperience. As a young player you shouldn't do that and try to force things, saying that he was not mentally ready for the season start."

[@HLN_BE] pic.twitter.com/O5dEBQKRE7

— CHAMPIONS OF ITALY 🏆 (@MilanEye) July 25, 2022

Given the express preference of De Ketalaere is to showcase his talents at the San Siro, rather than at Elland Road through the upcoming 2022-23 season and beyond, there have been suggestions the player is also putting pressure on his current club. The Jupiler Pro League season has already begun in Belgium, although De Ketelaere didn't feature in the opening match for Club Brugge, which they won 3-2 against Genk.
"It's all a little too much for Charles," said Club Brugge head coach when questioned about the absence of their star player, who had requested to be excluded from the matchday squad. Not being in the right mental place to compete with his current side, the reason cited by the player while in the midst of considering his future elsewhere.
The whole situation led to some interesting thoughts from Belgian legend Marc Degryse, who appeared critical of how the young player is treating his current circumstances. "Obviously this is annoying for De Ketelaere. He loses precious time, but Charles has also maneuvered himself into a difficult situation due to his inexperience, saying that he was not mentally ready for the league start," said Degryse.
Amidst the comments by Degrys translated by Inside Futbol, having appeared in Belgian outlet Het Laatste Nieuws, the former Belgian international provided further thoughts. "As a young guy, you shouldn't do that, try to force things. Charles should have left this to AC Milan, because imagine that things don't work out, which I can't imagine, then De Ketelaere still has a problem," he suggested of his fellow countryman.
Leeds United appear willing to keep their options open, until told otherwise by Club Brugge that any offer from AC Milan has been accepted, although they too must feel frustrated by the stance taken by De Ketelaere. His reaction to their interest, compared to that of the Italian giants, must surely seem like a slap in the face for the English side.

Bad news for Leeds United given he remains top of their shopping list, although clearly great news for AC Milan, as this would seem to give them the upper hand through the current negotiations. The player evidently has his heart firmly set on joining the reigning Serie A champions, regarding that opportunity as being a much greater step forward in his career.
Looking at the latest Serie A title odds ahead of the 2022-23 campaign, AC Milan are certainly riding high as contenders to retain their title. That being said, rivals Inter Milan and Juventus are actually tipped at slightly shorter odds. To get the bigger picture, SBO highlights the best betting options available, carefully reviewing odds and promotions with expert analysis, comparing all the leading online betting sites and what they have to offer.
Insofar as offers are concerned, hopefully De Ketelaere will remain resolute about his ambitions for a switch to AC Milan, providing their final bid is eventually accepted by Club Brugge. He would certainly be a fine addition to the squad, underlining a firm desire to remain at the forefront of Italian football, whilst also being mindful of competing for top European honours.