Harvey Esajas: The incredible story of the man who achieved the impossible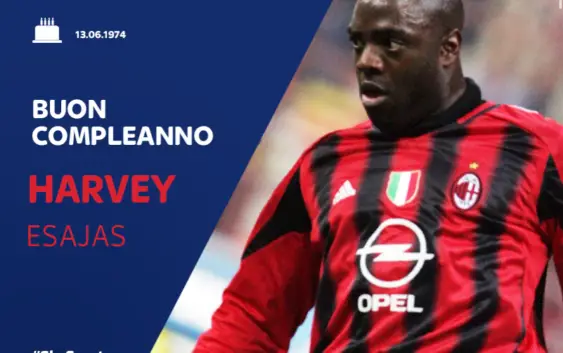 Many years ago
Harvey Esajas, Clarence Seedorf's best friend, 
realized his incredible dream of playing for AC Milan after working as a dishwasher.
Harvey Esajas was a Dutch footballer who played as a defender. At an early age he was snapped up by the famous Ajax youth academy playing alongside great players like Seedorf, Patrick Kluivert and Kanu. Esajas made his professional debut with Feyenoord at 18 scoring in one of the most prestigious clashes in the Netherlands, in a 2-2 draw with Ajax.
Despite the promising start he did not feature regularly in Feyenoord's first team only playing eight matches in 3 years with the Dutch club and was often out of match day squad. Harvey Esajas joined Groningen and subsequently moved to SC Cambuur, Dordrecht 90, Mostoles, Real Madrid B and Zamora CF before deciding to quit football in 2001 and took a regular job at a Spanish circus.
For 3 years he disappeared form the football world. In 2004, while he was working as a dishwasher, he received a visit from his old friend Clarence Seedorf. Esajas expressed Seedorf his desire to return to football. At the time Seedorf had just moved to AC Milan from Inter. He jokingly told Milan's then manager, Carlo Ancelotti he could have a good defender for free.
Even though skeptical Ancelotti accepted the challenge and invited him to train at Milanello. When he joined Milan he weighted 100 kg and within 3 months Esajas lost 15 kg. Ancelotti was left speechless by his dedication and offered him a contract. Not bad for someone who went from a player nobody wanted to playing for the most titled club in the world.
https://www.facebook.com/ACMilan/videos/10155441778586937/
He was part of Milan for a single season and in January 2005 he was awarded three minutes of play for his hard work entering as a substitute for Ambrosini. He even managed to create a goal opportunity for Tomasson. Harvey Esajas was also part of the rossoneri's team that faced Liverpool in the Champions League final and lost on penalties almost becoming a Champions League winner.
Next season Esajas moved to Legnano and in 2006 decided to end his career for the second and final time. When asked how would he describe his career Harvey Esajas replied: "The incredible story of the man who made the impossible thing possible".
---
Read here AC Milan's worst signings ever