Rangnick could name Nagelsmann as new AC Milan coach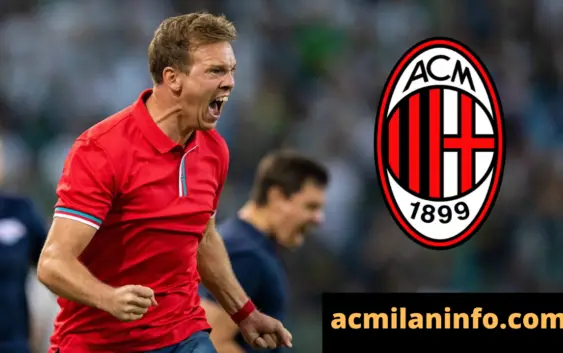 Ralf Rangnick could select Julian Nagelsmann to be the new coach of AC Milan while he would take care of transfers.
Ralf Rangnick plus one of his proteges at AC Milan. According to La Gazzetta dello Sport, there is a brand new idea regarding the new Milanese era. The agreement with Rangnick is consolidated but, in addition, the 61-year-old German could bring a young coach with him for this new challenge in Italy.
The ideal identikit would be Julian Nagelsmann, the highly esteemed and very young coach of Red Bull Leipzig. In that scenario Rangnick would occupy only the sporting director role and leave the on pitch duties to Nagelsmann. Ragnick would devote himself to player transfers, wages and game systems to be applied right from the youth sectors while Nagelsmann would deal exclusively with the bench and the strictly technical aspects.
Julian Nagelsmann is certainly not a coach like everyone else. The 33-year-old, born in Landsberg am Lech, Bavaria, has been coaching for nearly half of his life. The German started his football adventure as a centre back but a knee injury ended his career at U-19 level. In 2008 he started his coaching career as the assistant of Alexander Schmidt with Munchen 1860 and has progressed ever since becoming one of the best managers in Europe despite his very young age.
While at Hoffenheim, Nagelsmann, the youngest manager in Bundesliga history, took them from 17th in the table to participants in Champions League earning the nickname "Baby Mourinho". This season, his first in charge of Red Bull Leipzig, Nagelsmann is challenging Bayern Munich and Borussia Dortmund for the Bundesliga title. In Champions, his RB Leipzig squad thrashed Tottenham 4-0 becoming the youngest coach in history to win a Champions League knockout tie.
The football philosophy of Nagelsmann at Red Bull Leipzig is simple. Quick ball possession, with the aim of immediately seeking verticalizations, and a high and suffocating pressing to recover the ball as soon as possible. His preferred formation is a flexible 4-4-2 that often transforms in 4-2-2-2.
---
READ MORE: Red Bull sack Ralf Rangnick