Liverpool, PSG Have Their Eyes on Kessié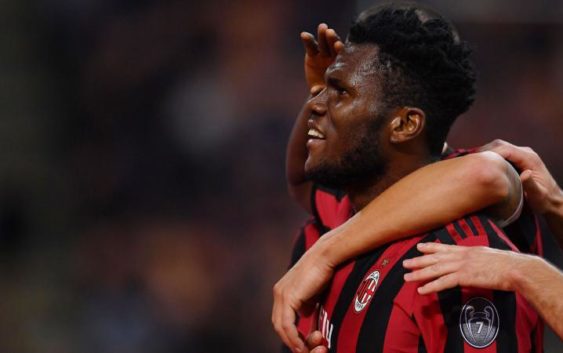 Kessié's form is not the only thing about him worrying the leadership of the Milano club. His contract is coming to an end next June – and the player might move on to another club as early as next January. Other clubs are also aware of this fact, with big names like Paris Saint Germain and Liverpool already keeping an eye on the Ivorian midfielder.
The Rossoneri are reportedly considering accepting offers for the 24-year-old midfielder. How much he may cost under the current it's anyone's guess. He might leave for a fee fit for a football star… or for a smaller amount, closer to what even you could win while playing at Spin Casino. The jackpots that can be won there may not be enough to pay for a player like Messi and Ronaldo but they could cover the salary and bonuses of a talented youngster like Kessié was when he left Bergamo. 
Who is Franck Kessié?
Kessié was likely inspired by his late father – a professional player before joining the army – to become a professional football player. To this day, he celebrates his goals with a military salute as a tribute to him. He joined Stella Club d'Adjamé in Abidjan at the age of 14, playing with the team until becoming senior.
Once he turned 18, he was signed by the Italian club Atalanta. He was assigned to the Primavera squad at first – he played his first match in Europe against AC Milan Primavera. In 2015, he was considered as an addition to the first team but he mostly warmed the bench. That until he left on load to Cesena. There, he quickly became a part of the starting 11, racking up a few goals before returning to Bergamo. Upon his return, he was finally promoted to the first team. But his time with the team was short, despite the fact that he signed a contract that would keep him at Atalanta until 2021. He left for Milan in 2017 on a two-year loan deal with the obligation to buy.
Internationally, Kessié represents Ivory Coast. He was capped almost 50 times for the National Team, with four Olympic matches (and one Olympic goal) under his belt.
Awaiting offers
Now, Milan is reportedly awaiting offers for the 24-year-old midfielder. Back in 2019, Milan paid around €24 million to have him. Today, according to TransferMarkt, his market value is more than double. But he was not at his best lately, and Milan are also pressed for time – so the Rossoneri may be willing to let him go for a smaller amount than that.
Kessié's departure in January would be a shock, especially since Milan are reportedly actively working on an agreement with the player. In the next few weeks, the future of Kessié at the club will be decided. Plan A is, certainly, him staying put at San Siro. But if things don't work out the way they should, there's always plan B – Kessié moving on.
In this case, there are clubs already lining up for him, with Liverpool and PSG as the frontrunners. But they are not the only teams out for him: according to Gazzetta.it, everyone from Manchester United to Juventus are monitoring his situation.
---
READ MORE: Juve offered AC Milan swap deal for Donnarumma