Report reveals how AC Milan pressured and brought Tonali to tears during Newcastle talks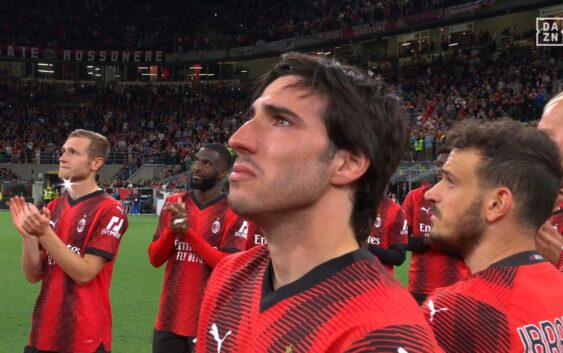 A recent repots reveals what
happened during the negotiation to sell Tonali to Newcastle and how the player was brought to tears by AC Milan. 
The story of Sandro Tonali at AC Milan is over. After the farewell of Paolo Maldini and Zlatan Ibrahimovic, the Rossoneri fans have to deal with the departure of the player who most represented them. Sandro Tonali joins Newcastle in a record deal that will exceed the €80 million figure with add-ons.
Tonali and the Red and Black supporters dreamed of a future together, a future as a flag of AC Milan. These hours have certainly not been easy for the true Rossoneri fan, who cannot understand it, cannot accept it. Tonali was the last hope of being able to see a great player pick up on the legacy of Franco Baresi, Paolo Maldini and also Gennaro Gattuso but it won't be like this.
Every AC Milan player is on the market for the right price under the new management. AC Milan fans must get used to it as this will be the standard as long as Gerry Cardinale is owner of the club. 
The fan are trying to understand the reason for Sandro's farewell. Most point the finger towards the ownrship, against Gerry Cardinale, but there are those who feel betrayed by Sandro Tonali himself, who a couple of years ago declared that he dreamed of becoming a banner for Milan.
In reality the 23-year-old Italian midfielder was never given the chance. La Repubblica reports what happened between the player and the club during this period. Tonali wanted to stay at AC Milan but the club informed him that they absolutely wanted to sell him to Newcastle to collect the 80 million euros fee.
Repubblica also reveals that Sandro Tonali burst into tears after being "invited" by the club to pack his bags. The talented central midfielder thought he could stay at AC Milan for his entire career, to become a flag of the club. This were the program of Paolo Maldini, certainly not of Gerry Cardinale.
La Repubblica also recounts another detail. Tonali received a phone call from Moncada, with which he would have peremptorily 'exhorted' him to say goodbye to Milan. If there had been a refusal, the footballer would not have had the opportunity to renegotiate his contract until it expires, in 2027, unlike his teammates who will, however, be able to aspire to reach figures such as those of Rafael Leao or those offered to Marcus Thuram who ended up joining Inter.
---
READ MORE: AC Milan's worst signings EVER