Two exclusive Ferraris for Ibrahimovic's 41st birthday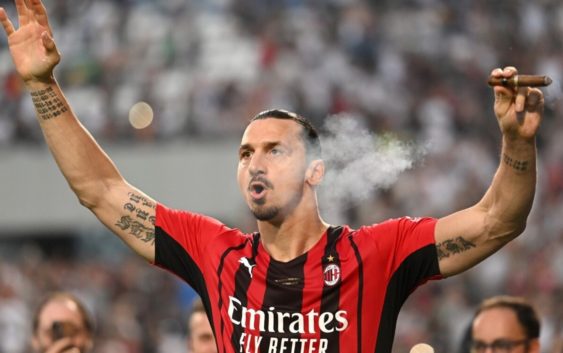 When you are a footballer at the highest level, you can afford to make extravagant purchases. When you are Zlatan Ibrahimovic, you can do what you want.
The Swede has managed to build a no-nonsense reputation throughout his playing career as he has become a polarizing figure for so many, although while he continues to play for AC Milan and is able to continue to perform to a high level, there will not be many that will be complaining about what he does.
For those that have followed the iconic striker over his career on social media, then it will not come as a surprise that he likes to treat himself for his birthday; very much like the rest of us. Of course, he is in a position to spend a little more than the vast majority of us, and it seems his 41st birthday was a time to get the checkbook out and splash the cash as he celebrates another birthday.
Two exclusive Ferraris added to Ibrahimovic's collection
Indeed, over the last few years, Ibrahimovic has been continuing to enhance his collection of sports cars, as he has continued to purchase a new one with each milestone, however this year, he has decided to go all out and buy two. So, what did he get? Two Ferraris no less.
It is also important to note that they are not just any Ferraris, either, with both of them being exclusive models and extremely limited, thus making his 41st birthday one that was well worth celebrating. He has added a Daytona SP3 and a 812 Competizione A to his growing collection which already includes a Ferrari Monza SP2, a Ferrari SF90 Spider, and a Porsche 911 Targa 4S Heritage Design Edition, with the former of the three said to have been worth around $1.75 million!

Could winning Serie A be a better birthday present?
While he has a growing car collection, there may be some that may suggest winning the Serie A would be another great gift for the Swede, with the iconic striker having already been able to win numerous Scudettos in his career to date. In fact, he has won it five times thus far, three times with Inter Milan, and twice with AC Milan. But could he make it a third time this year?
The Rossoneri are not having the best of seasons at the moment, as they currently sit fifth in the Serie A table, but it is important to recognize that they are only three points off the leaders Napoli at the moment after nine games played. Indeed, with this in mind, this is perhaps the reason why many are still confident betting on them, especially as the club remains the favorite at +220 at the moment to come out victorious and retain their Scudetto title. Nonetheless, the race for the title is close, with Napoli (+230), Inter (+500), AS Roma (+600), and Atalanta (+800) all believed to be in the running, whereas Juventus are not thought to be contenders after a poor start to their campaign.

Can we expect to see Ibrahimovic racing around in his Ferraris?
Of course, now that Ibrahimovic has two new Ferraris as part of his collection, there will be many that will be wondering if we are able to catch him in either of them in the near future.
It would not be a surprise if we were to see images and videos appear on his socials, as he is very active, but we should expect to see the red 812 Competizione A appear first, as deliveries for the white Daytona SP3 he has bought are not actually scheduled to begin until the end of 2023.
With just 599 available, the 812 Competizione A has a 6.5-liter V12 engine and 819 horsepower, while the Daytona SP3 – which is valued at more than $2 million to purchase – also comes equipped with a 6.5-liter V12 engine, while providing 828 horsepower and can go from 0-60 mph in under three seconds!
Final Thoughts
Clearly, if you have the cash – and the passion for the brand that he evidently has – there is nothing wrong with Ibrahimovic splashing the cash that he has earned throughout his career. Hopefully, for AC Milan and their fans, he can return to the pitch soon and help lead them to another Scudetto title this season!